If you want to learn how to properly release cover songs on streaming services in a way that is both easy and legal, I've thoroughly researched DistroKid's cover song licensing feature and have written all of my findings down here for you.
DistroKid allows you to legally distribute and release cover songs with its Cover Licensing feature that automatically obtains the licenses needed and makes sure the original songwriters are paid every month for just $12 annually per song.
DistroKid cover song licensing allows you to easily distribute cover songs by simply checking off a box when uploading your song instead of having to track down, obtain, and manage the appropriate cover licenses all by yourself.
Before we dive into how DistroKid cover songs work and how you can get started in detail, just a few quick things:
#1 – Nothing that is mentioned by me or DistroKid is meant to be taken as official legal advice, etc, etc, etc.
#2 – To release covers sons with DistroKid for the lowest possible price, make sure you learn about the DistroKid discount before signing up.
With that out of the way, if you're ready to learn everything you need to know about how you can release cover songs with DistroKid, simply keep on reading, my friend! 🙂
DistroKid Cover Song Licensing Explained
DistroKid Cover Song Licensing allows you to legally release cover songs by obtaining the right license(s) and making sure the right people are paid on time.
DistroKid cover song licensing costs $12 annually per song in addition to the legal amount that is automatically withdrawn from your monthly royalty earnings to the original songwriter(s). The DistroKid cover license is a $1 per month fee that is paid annually (meaning $12 billed to the credit card you have on file).
The cover licensing fee is used to obtain the licenses needed, make sure the original songwriters are paid every month, and make sure your release is kept up to date on copyright laws.
Aside from the legally-mandated fee of 9.1 cents or 1.75 cents per minute of playing time or fraction (whichever is larger) to be paid to the original songwriter, you get to keep 100% of the remaining earnings.
When using DistroKid to legally release a cover song, it is important that you understand that DistroKid classifies a cover song as an audio recording that you have performed and recorded yourself but the music was written by someone else.
This means that you can't use samples of the original song and must have actually recorded all of the elements of the cover song yourself.
Why DistroKid Can Easily Release Covers
You are able to easily release cover songs through DistroKid thanks to legal rules on cover songs called "compulsory licensing" which means anyone can cover a song and its creator is not allowed to say no (hence compulsory).
In addition to this, the royalty rate for cover songs is "statutory" (aka fixed) and is set by 3 copyright royalty judges appointed by the Librarian of Congress.
This means that DistroKid is able to easily implement a system that automatically obtains licenses and pays out songwriters correctly since the law states that creators are not allowed to say no and the original songwriter's earnings are easy to calculate since the royalty rate is fixed.
How To Upload Cover Songs With DistroKid
Whenever you distribute a release using DistroKid, there is a checkbox on the release form for you to confirm if the song is an original (aka you wrote it) or if the song is a cover (aka someone else wrote it).
Choosing the cover song option will automatically apply DistroKid's cover song licensing which is a $1 per month fee that is paid annually (meaning $12 billed to the credit card you have on file) that is renewed annually to manage the cover song license for you.
To upload a cover song with DistroKid, follow these steps:
Log in to your DistroKid dashboard
Click on "Upload" at the top of the page
When you get to the "Songwriter" section of the release form, select the "Another artist wrote it (it's a cover song)" option
Review the information DistroKid displays on cover song licensing
Input the track's original artist/songwriter and original song title
Check of the box that confirms "This track does NOT sample or remix another artist's recording"
Finishing submitting your release as normal
This is the area of the DistroKid release form that you are looking for:

This is what happens once you select the cover song option: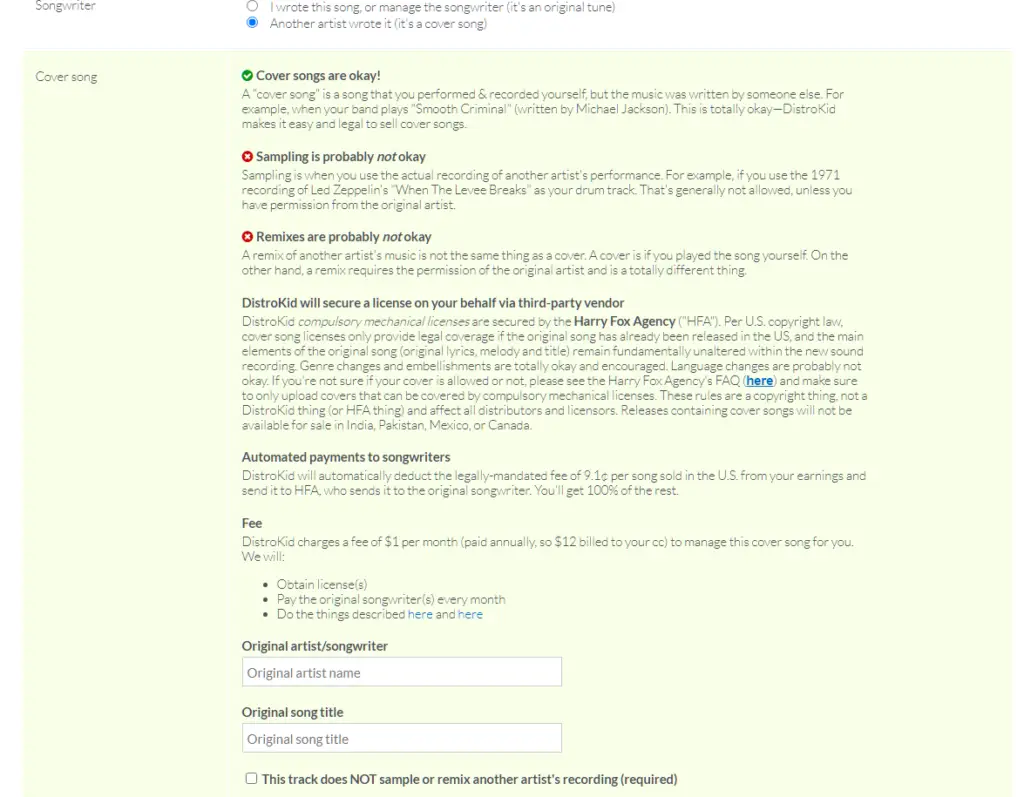 After submitting a release that uses DistroKid cover licensing, DistroKid will obtain the mechanical license for you and automatically deduct the legally-mandated fees from your earnings each month and pay it to the original songwriter.
To make sure your release goes out on time, make sure that there are no errors (visualized as a red X) and that you have used the original song's title exactly as it is depicted in its original release.
After your cover song has been successfully submitted, you will be able to view and download all of your existing licenses by clicking on your DistroKid profile icon at the top right and then selecting the "Cover song licenses" option.
11 Things You Need To Know When Uploading Cover Songs With DistroKid
Here are some extra things you should know and tips for when you are using DistroKid to distribute cover songs to Spotify and other streaming services:
DistroKid Cover Song Wait Times: It can take up to 14 business days to secure a cover song license so make sure to factor that in when planning your release

Cover Song Titles: Do not include the name of the original artist in the track title (ie: "Wonderwall" and NOT "Wonderwall (originally by Oasis)"

Unreleased Songs In Film: DistroKid can't obtain licenses for any song that was used in a film score or video game that was never released separately from that film's or game's soundtrack

Unreleased Songs In Games: DistroKid can't obtain licenses for songs that were released as part of CD compilation outside of the United States

Traditional Songs: DistroKid can't obtain licenses for traditional songs that are now part of the public domain

No Medleys Or Mashups: You can't use DistroKid cover liceneses to release medleys or mashups

Must Use DistroKid Licenses: You must DistroKid's cover license even if you have (or plan to ) obtain the license on your own

No Sampling Allowed: You can't use audio samples of the original recording or of the original artist's performance in the song you submit as a DistroKid cover

Obtain A New License For Every Cover Upload: You must purchase a DistroKid cover license every time you upload a cover song with DistroKid, even if you have uploaded that same cover song in the past with DistroKid

No YouTube Content ID: Cover songs submitted through DistroKid are not eligable for YouTube Content ID (although other songs that are eligibale will still work if you are releasing an album)

Derivative Works: If the lyrics or final composition is fundamentally changed from the original composition it may be considered a derivative work and may require direct permission from the song's music publishers. US copyright law mentions that cover liscense are only valid when the original lyrics and melody are mostly the same as the original song.
It's important to follow these tips or else your song may not be released, be delayed, or there could even be some unfortunate legal action taken against you by the original songwriter.
Which DistroKid Plan Is Best For Releasing Cover Songs?
It is possible to release cover songs when you are on any of the plans that DistroKid has available, however, I would recommend using the Musician Plus plan so that you can set a custom release date.
If you want to upload covers for the lowest price I would recommend the basic Musician plan, however, my ultimate recommendation would be to use the Musician Plus plan.
Because it can take up to 14 days for DistroKid to obtain the cover license, this may mean that your cover song will get released at a very random time and may be hard to promote because you don't have a clear release date on the basic Musician plan.
To learn more about how you can pick the right DistroKid plan for you, I'd recommend checking out any of these articles:
Regardless of which plan you choose, I'd recommend learning about the DistroKid discount before you sign up so that you can get your plan for the lowest possible price.
Click the link above to learn more (including a full walkthrough), but here is a spoiler for you:
The best discount that DistroKid offers is 7% off your first year with DistroKid: to save 7% off with DistroKid click here.
What Happens If You Don't Use DistroKid Cover Song Licensing?
You must use DistroKid's cover song licensing even if you've obtained a cover license on your own.
If you do not, your cover may be taken down or there could be legal action taken against you by the original songwriter(s).
The reason for this is due to the fact that the only way that DistroKid's system can confirm that the original songwriter is being paid appropriately is when DistroKid's license is applied to your release.
DistroKid Alternatives
If you would like to do some shopping around before selecting DistroKid as your music distributor, I'd highly recommend that.
It's always good to be informed!
Although I think DistroKid is awesome and definitely recommend it, I also did a bunch of research before selecting them (that is how I'm able to write all these articles hehe).
Below are some alternatives to DistroKid that I have researched and written about. I do my best to make it an unbiased shootout of what each company offers on their websites (but sometimes my DistroKid fanboy shows quite a bit).
P.S. I'll be sure to update this section with more comparisons and alternatives as I research and write about them. 🙂
P.P.S. If you also want to learn about music publishing and make sure that you are not leaving any money on the table with your music distribution setup, I'd recommend checking out these 2 articles: