Whether you want a simple link to promote your latest release in your link in bio or need a link to run Facebook and Instagram ads to, you may be interested in finding out if DistroKid HyperFollow pages work for artists. I've researched this topic and wrote about my findings right here for you.
DistroKid HyperFollow pages are automatically created landing pages for each release with links to various streaming services. It is a good free option for DistroKid users but is not as good as the alternative of building fully customizable landing pages with WordPress or Squarespace.
HyperFollow pages are a great way to get started with smart links for marketing your music because they are free and have a decent amount of customization options (if you are a DistroKid user that is).
Although a good place to start, any serious artist will eventually want to upgrade to having their own professional website with fully customizable landing page smart links in the style of HyperFollow.
If you want to learn more about HyperFollow and what other alternatives there are, simply keep on reading, my friend. 🙂
Does DistroKid HyperFollow Work For Artists?
DistroKid HyperFollow does work great for DistroKid artists that want simple smart links to promote their music without having to spend any money or time on building their own website landing pages in a similar style.
With an ever-growing amount of "link in bio" style pages that are marketed specifically towards artists, musicians, producers, and bands, it is great that DistroKid provides a completely free option for its users built right in.
Here are all of the ways that DistroKid HyperFollow can help out artists:
Increase Spotify followers and listeners with pre-save campaigns (if anyone clicks the pre-save link and connects their Spotify account)

Grow your mailing list with pre-save campaigns (if anyone clicks the pre-save link and types in their email address)

Get insight into your fanbase with website analytics data, geography data and, even other music that they are listening to
Even though HyperFollow is a fantastic starter option for artists, there is one huge problem with it…
The Big Problem With HyperFollow
If you have released music yourself (or are thinking about it), the idea of a "pre-save" campaign probably sounds absolutely fantastic.
You promote the link, potential listeners click on it, choose Spotify and boom: they are following you on Spotify, your music is added to their library, you have their email, AND they will automatically get an email when your music gets released.
However, if you've ever released music before, you'll also know that almost no one pre-saves music.
Let's get real… when is the last time you honestly pre-saved a song because you just had to have it the moment it came out?
Although it is a great concept, potential listeners need to connect their Spotify account at the time of pre-saving your music, and not the easy way either….
Because of the integration with Spotify, users need to type in their username and password to make the connection and no one is going to want to go through that hassle.
With that said, this isn't a DistroKid problem: any pre-save link from any company has this issue due to the Spotify integration.
So, now that I have hopefully turned you off from wasting your time promoting pre-save links…
Is DistroKid HyperFollow still good for promoting your music on release day and beyond?
DistroKid HyperFollow Review
DistroKid HyperFollow is a good free option for DistroKid users looking to promote their music but is not as good as the alternative of building fully customizable landing pages with WordPress or SquareSpace.
When I first started releasing music myself, I 100% used DistroKid HyperFollow links. They are free, easy to create, have some customization options, and did I mention they are free?
DistroKid has even upgraded their HyperFollow pages over time, most notably adding the ability to add in Facebook and Google pixels if you want to start running Facebook and Instagram ads effectively to promote your latest release.
It's for these reasons that I wholeheartedly recommend any newer artist to start off with DistroKid and their HyperFollow pages to promote their music on release day and beyond.
But, with that said, there is a better alternative that I have found (and now use to this day) that I would recommend for artists that want to take their career more seriously and take control of their music marketing.
More on my top recommendation for music marketing smart links in the following section, but for now, on to the pros and cons of using HyperFollow:
Pros of Using DistroKid HyperFollow
These are the benefits of using DistroKid HyperFollow:
Cons of Using DistroKid HyperFollow
These are the downsides of using DistroKid HyperFollow:
Very light customization options
The page design you are stuck with is NOT conversion-optimized (aka designed in a way to get as many people to click the Spotify button as possible)
DistroKid branding at the bottom of each page
No way to have a custom domain (yourartistname.com/yoursong vs distrokid.com/hyperfollow/yourartistname/yoursong)
Not able to run Spotify conversion ads (learn more by checking out my DistroKid HyperFollow Facebook Pixel Guide)
DistroKid HyperFollow Examples
Here are some examples of what DistroKid HyperFollow pages can look like: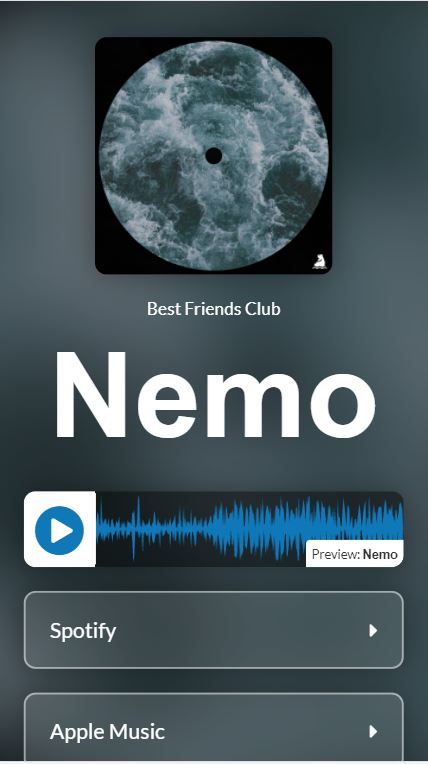 The Best DistroKid HyperFollow Alternative
The best alternative to DistroKid's HyperFollow links is to build your own by using a WordPress or SquareSpace website.
I do this myself with my very own WordPress-based website (aka the one you are on right now) and find it to be way more flexible and effective, particularly if you want to do the Spotify algorithm hack by running Facebook and Instagram ads to your smart link pages.
The reasons I'd recommend doing this over using the HyperFollow links are because:
Without paying for these services, you can create smart links that are exactly in the style of HyperFollow, Linktree, Toneden, Hypeddit, etc.

Get more streams to your music by using my highly tested and conversion-optimized smart link template

Look more professional and credible by having a custom domain and no other company's branding on them

Get your brand and identity across by perfectly customizing your smart links to look exactly how you want them to
On top of this, you'd actually have a legit and professional full-blown website and not just some smart links for promoting your music.
For a free step-by-step course on how to get started with this, check out my free course on smart links for music.
The things you can do with a website are endless (ie: blogs to rank on Google like this post you are reading, create a Patreon-style membership, private webpages for your fans to create unique experiences, etc)
But, to start, how can you go about creating your own smart links for promoting your music in the style of HyperFollow?
How To Create Your Own DistroKid HyperFollow Smart Links
To create your own smart links in the style of DistroKid HyperFollow, all you need is either a simple WordPress-based website or a Squarespace-based website. If you already have a website solution in place, you may be able to create your own smart links at no extra cost to you.
To create your own smart links for marketing your music, the truth is that you can really use any website creator on the market today. But, it is best if you have the ability to create pages that allow you to remove the header and footer menus like you can with WordPress or Squarespace.
Although both options are great, I use and recommend WordPress because:
There are no (or very low) monthly fees

More customization and flexibility because of the endless amount of WordPress plugins available

The option to use pre-made templates already in the style of Linktree, Toneden, Hypeddit, etc.
For a free step-by-step course on how to get started with this, check out my free course on smart links for music.
To get started with your very own custom WordPress website, all you need to do is install WordPress and then create some "smart link"-style landing pages with the free built-in WordPress page editor.
To install WordPress as quickly and easily as possible, I'd recommend using a web hosting service like Bluehost that gives you web hosting, a website domain, and then instantly sets up WordPress on it for you, all in just a few simple clicks.
Then, when you want to take things to the next level, you can install a premium theme that allows you to perfectly reproduce the looks of other smart link pages and even download pre-made templates like Thrive Architect.
If you are just starting out, I'd recommend starting off with a simple WordPress-based website to keep your costs low and then upgrade to a premium theme when you feel ready to make the leap.
With that said, I'm personally using Bluehost to take care of all of my website needs and have also installed Thrive Architect to not only build smart links in the style of DistroKid HyperFollow but also to create the entire website that you are on right now. 🙂
Other DistroKid HyperFollow Competitors
Competitors of DistroKid's HyperFollow product include LinkTree, ToneDen, and Hypeddit. However, the best DistroKid HyperFollow alternative is to create your own fully customizable WordPress website because it is cheaper and more flexible when designing web pages.
If you do not want to go the DIY approach, and instead want to look up some other smart link competitors, here is a list of companies like Linkfire that are worth checking out:
DistroKid HyperFollow Not Working Or Updating?
After setting up your HyperFollow link and even sending people over to your link, you may run into a few issues. Luckily, most of these have been fixed or have an easy fix.
There are few ways your DistroKid HyperFollow link may not be working you:
Higher amount of pre-saves or follows stated on HyperFollow than the actual amount of saves shown on Spotify
HyperFollow launching the Spotify website instead of the actual app
The album artwork not updating on the HyperFollow page unless you re-do the entire song submission process
No one pre-saving on the HyperFollow page
When it comes to technical issues, the easy thing to do is to simply contact DistroKid for some help.
However, if you are noticing a less technical issue like no one pre-saving your release or the pre-save numbers not matching up with the actual save numbers on Spotify, there is a much bigger issue at play.
To learn more about why HyperFollow may not be working for you and what you can do about it, check out my article on DistroKid HyperFollow Not Working, for more. 🙂
Companies Like DistroKid To Check Out
Although my top suggestion for a music distributor is definitely DistroKid, I've gone ahead and compared DK to other popular services in case you are in the market for a new digital distributor or are simply just curious.
Popular alternatives to a music distribution service like DistroKid include TuneCore, CdBaby, Ditto, and Amuse.
If you would like to see how DistroKid compares to these services, more closely check out this articles:
Or, if you would like a more detailed look into what DistroKid has to offer, you can check out my big fat DistroKid review. 🙂
P.S. If you also want to learn about music publishing and make sure that you are not leaving any money on the table with your music distribution setup, I'd recommend checking out these 2 articles:
Some of my favorite music marketing tools
Thank you for reading this article, my friend, and I hope you found it helpful as you build your own successful career in music. 🙂
Here is a list of my favorite and most recommended tools and resources that I've personally used to get my music streamed over 4,000,000 times on Spotify as an artist.
Any of the paid services or tools listed here are most likely affiliate links, so if you do decide to use any of them, I'll earn a small commission.
But in all honesty, these are the exact tools that I personally use, love, and recommend to anyone – including my own friends and family.
Music Distribution
To get your music on Spotify on all the other streaming services, I use DistroKid because you get unlimited song uploads for a low annual price.
If you want to learn more about DistroKid and music distribution, check out the in-depth DistroKid review that I've put together.
Or, if you want to get started with DistroKid right now, you can save on your first year with the DistroKid discount.
Facebook Ads For Spotify Success
Although Facebook Ads can be a real pain to get working properly, there is no denying that they are incredible for growing Spotify streams and getting your music in front of real fans.
This is why I've put together a completely free course that you can check out called Facebook Ads For Musicians' Spotify Streams. 🙂
Music Publishing Royalties Collection
For collecting all of the publishing, mechanical, and live performance royalties owed to me whenever my music gets streamed or played, my go-to is Songtrust.
Songtrust is a publishing administration company which means that in addition to collecting all of those royalties for me, they do it on a global level.
To learn if Songtrust is right for you, I'd recommend checking out this article on Songtrust vs BMI.
And if you want to get started with Songtrust right now, I'd recommend learning about the Songtrust discount code so that you can get the best price. 🙂
Website & Smart Links
I'm personally not a big fan of the link-in-bio and smart links for music pages like ToneDen and Hyppeddit.
Instead, I prefer having a full-blown WordPress website that allows me to have a full website in addition to unlimited music links.
For getting started with this, I really like Bluehost because it is the cheapest and a theme called Thrive Themes because it is the most flexible and easiest to use.
I've actually created a free Smart Links Course that you can take to learn how to get set up and start getting more streams with custom smart links (I've even included the templates I am using!).
Want more tools and resources for your music career?
If you'd like to see even more of my favorite marketing tools and resources for musicians and music artists, I've created an even larger list on this page: Best Marketing Tools & Resources For Musicians (& Music Artists).
P.S. There are even some free tools and resources included on that page as well! 🙂