In this guide, I'll show you how to release music on Spotify from what I've learned releasing a new song on Spotify every month for the last 2 years.
To release music on Spotify you need to submit your music and artwork to a music distributor at least 1 week before release day. You should then promote your release using proven tactics like social media, Facebook Ads, or Email marketing.
With the rise of modern music distributors (like DistroKid who let you upload unlimited songs for a very low annual fee), it is now incredibly easy for anyone to effortless get their music live on Spotify and other streaming services.
Here's the truth: the real work begins when it comes to promoting your music so that it actually gets listened to and shared on Spotify.
I'll go over the specifics of getting your music on Spotify, how you can promote your music once it is up, and how you can craft a release schedule that takes advantage of Spotify's powerful recommendation algorithm.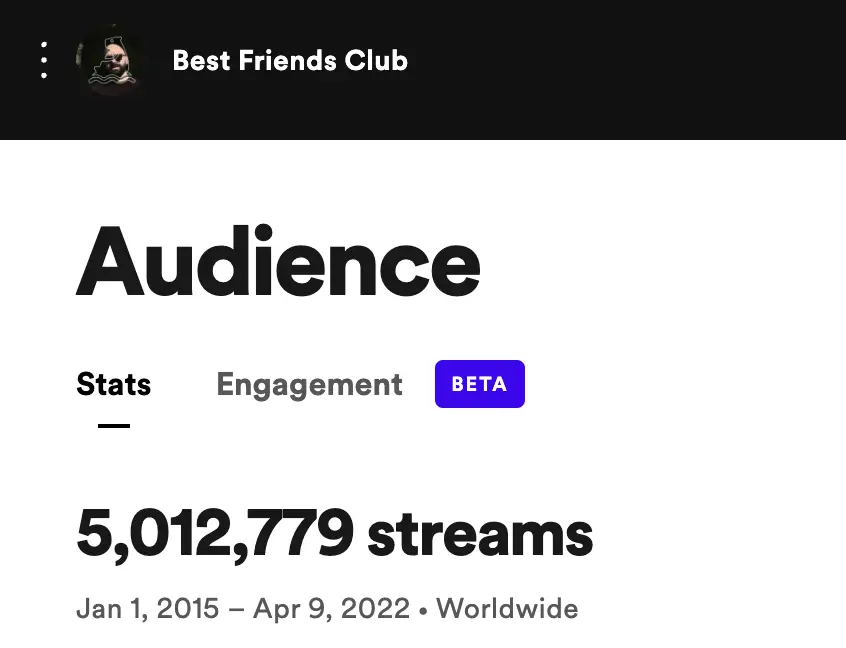 So far, I've successfully released over 20 songs on Spotify and have passed 5 million streams. Today, I'll show you all the steps that go into properly releasing your music on Spotify. 🙂
Single Release Plan Template For Growing Spotify Streams
Before going into more detail, I want to give you a solid overview of exactly what I do every time I plan on releasing new music on Spotify (which is every single month btw – more on that later!).
Here is the exact release plan template I follow and recommend:
Submit your music to your distributor (4 weeks before release day)
Pitch your song to the Spotify editors (2 weeks before release day)
Prepare a few video assets for ads and social posts (1 week before release day)
Prepare your website or "music link" (1 week before release day)
Schedule simple Facebook Ads to drive listeners to your song (1 week before release day)
Schedule simple social media posts to bring older fans to your new song (1 week before release day)
Monitoring and adjusting the ads & replying to comments from fans (first 28 days of the song's release)
…not that many steps, eh?
My little "secret" is to simply "copy and paste" a few simple steps each time I am releasing a new song so that I can spend as little time promoting my music as possible and focus on creating more music instead.
This becomes even more important when you learn about the release strategy that works the best to find success on Spotify.
Spoiler: because you will be repeating this process constantly to build momentum in your music career, my recommendation is to focus on just a few very specific tasks.
Before continuing, I should mention that if it is your first time releasing music on Spotify, you will want to give yourself more time to set things up correctly (it may personally take me less time to complete steps since I've done it so many times!).
Why Your Release Plan Should Be As Simple As Possible
By focusing only on a select few steps that are going to actually move the needle, you'll feel less overwhelmed and be able to easily repeat these steps for every single release you do.
You see, most articles and videos on the Internet will tell you the "250 things you NEED to do" or give advice like "be on EVERY social media platform" to promote your music properly.
The truth is that this advice is usually an attempt to reach a certain word count or video length and makes you fall into the trap of thinking that "more = better".
The truth is that as an independent artist or musician, you have very limited resources (both time and money) and you need to choose how you use your resources wisely.
So, I've put together a simple 7-Step Spotify Release Checklist that I used to get over 5,000,000 streams that you can have for free.
This checklist has been a lifesaver for me and it really is the heart and soul of how I successfully promote my music on Spotify even to this day.
Be sure to review the steps in that checklist and click around to reveal more information about each step and why it is so important. 🙂
The Best Way To Get Music On Spotify
The very first step for releasing music on Spotify is signing up with a music distributor and then submitting your music at least 4 weeks before release day.
Here's how it works…
Instead of allowing artists to upload music directly to Spotify, Spotify relies on music distributors to act as a middleman between the artist and Spotify.
By doing it this way, Spotify does not have to deal with rights monitoring and making sure that artists like you or I have submitted our releases correctly.
The best way to get music on Spotify is by using a music distributor that offers unlimited song uploads, doesn't take a cut of your royalties, gets your music up fast, and is affordable.
My personal recommendation is DistroKid because they check off all of the boxes I mentioned above and I have personally been using them for the music I release.
They are also at the top of Spotify's Preferred Music Distributors list (which must definitely count for something!).
In the past, there were only a small handful of music distributors and you had to pay them a fee for every song you want to be distributed per year… until DK came along.
You can learn more about them in my big fat DistroKid review or you can sign up for the lowest price by learning about the DistroKid discount.
And if you would like to shop around first, I've gone ahead and compared DistroKid to some other popular music distributors as well:
Spotify Upload Requirements
When submitting your music to Spotify, there are a few technical requirements you should follow when preparing to upload your music and album art.
Audio Upload Requirements For Spotify:
File format: FLAC or WAV
Sample size: 16 bit
Sample rate: 44.1 kHz
Loudness level: -14 LUFS
Artwork Upload Requirements For Spotify:
Dimensions: minimum of 640px by 640px
Aspect ratio: 1:1
File format: TIFF, PNG, or JPG
Resolution: highest available
Once you know how to distribute your music, you can move on to the next step!
How To Get On Spotify Playlists
Once your music has been submitted to Spotify, the next step in your release plan should be to make sure to pitch your song to the Spotify editors at least 2 weeks before release day.
Getting on playlists is a critical step to massively growing your streams, however, the secret here is NOT to pay companies $100s to get on random playlists.
Here's how it works…
Spotify rewards artists that bring highly targeted and engaged listeners to their platform by giving artists the opportunity to get placed on Spotify's algorithmic and editorial playlists.
Getting your song placed on one of these playlists means your song will get shown to thousands of new listeners who are similar to your current listeners for free.
These playlists and the algorithm that powers them are absolutely key to how successful your Spotify music promotion can be.
Any artist can submit their music to the Spotify editors for Spotify editorial playlist consideration in the Spotify For Artists dashboard. However, it takes consistency, proper targeting, growth, and a bit of luck to secure a spot.
To make a Spotify playlist submission, follow these steps:
Log in to the Spotify For Artists dashboard.
Navigate to the "Music" tab.
On the "Music" page, click on the "Upcoming" tab.
Select the unreleased song that you would like to submit.
Fill out the submission form.
To learn more about how to pitch your music to the Spotify editors, check out my article on Spotify Editorial Playlist Submissions. 🙂
How To Promote Music On Spotify
Once your music has been submitted and pitched, everything else really goes under the large umbrella of "music promotion".
On my personal journey to passing 5 million streams, I've experimented with a lot of stuff that did and didn't work for me.
Here's what I've discovered…
As Spotify gets more and more concerned with becoming a profitable business, they are taking fake/fraudulent streams more and more seriously.
Spotify defines an artificial stream as a stream/play that does not mirror real user listening behavior and intent which includes any attempt to manipulate Spotify with automated processes like bots, scripts, or click farms.
This is why it is important to properly promote your music on Spotify by using proven Spotify marketing techniques like social media, Facebook Ads, and maximizing free streams from the Spotify algorithm.
There are the 5 steps to properly promoting your music on Spotify:
Avoid "artificial" streams at all costs
Understand the Spotify algorithm & available Spotify playlists
Create a release strategy that takes advantage of the Spotify algorithm
Send high-quality listeners to Spotify
Follow a simple and repeatable promotion system
In my experience, I noticed that social media posting is not enough because it takes up a lot of time while not getting enough results to trip the algorithm.
Playlist pitching also doesn't work because it can be expensive and your song is only playlisted for a limited time and gets little listener engagement.
…so what does work best then?
I've personally found that a combo of Facebook Ads, social media, and following a music release strategy that maximizes the Spotify algorithm is the absolute best way to promote music on Spotify.
To learn more about how you can follow these 5 steps in more detail to effectively promote your music on Spotify, check out my full guide on How To Promote Your Music On Spotify. 🙂
Music Release Strategy For Spotify Success
Now we come to the most important part when it comes to properly releasing music on Spotify: your long-term strategy.
Because the truth is that if you think you'll be able to release 1 song and run a few Facebook ads to have that song pop…
You are dead wrong.
It's important to take the time to plan out 6 – 12 months worth of releases and make sure that your music is in a release-ready state so that you can truly focus on promotion once you get started.
Effectively promoting your music will be hard work and if you are wasting time struggling to finish music at the same time it will be so much harder.
Because your music can be exposed to 1,000s of new listeners for free within the first 28 days of its release on Spotify's Release Radar playlist…
It's highly recommended that you aim to release a new song every 28 days (or roughly 4 to 5 weeks).
Each release is another chance to trigger the algorithm.
Each release is another chance to pitch to the Spotify editors.
Both the Spotify algorithm and editors are looking at traction and momentum.
If they see an artist continuing to put out new music and hit better numbers, they are more likely to pay attention.
In addition to this, you will learn how to run better release campaigns and promote your music better the more releases you do.
…and here is a harsh truth and some tough love for you…
No matter how great you think your music is:
You don't get to decide if your song is a hit or not.
The song you think is a hit might flop, while the song you thought was a B-side could go viral.
The listeners decide, not you.
The more often you release music, the more opportunities you give the fans the opportunity to decide if this release is going to be "the one".
Some of my favorite music marketing tools
Thank you for reading this article, my friend, and I hope you found it helpful as you build your own successful career in music. 🙂
Here is a list of my favorite and most recommended tools and resources that I've personally used to get my music streamed over 4,000,000 times on Spotify as an artist.
Any of the paid services or tools listed here are most likely affiliate links, so if you do decide to use any of them, I'll earn a small commission.
But in all honesty, these are the exact tools that I personally use, love, and recommend to anyone – including my own friends and family.
Music Distribution
To get your music on Spotify on all the other streaming services, I use DistroKid because you get unlimited song uploads for a low annual price.
If you want to learn more about DistroKid and music distribution, check out the in-depth DistroKid review that I've put together.
Or, if you want to get started with DistroKid right now, you can save on your first year with the DistroKid discount.
Facebook Ads For Spotify Success
Although Facebook Ads can be a real pain to get working properly, there is no denying that they are incredible for growing Spotify streams and getting your music in front of real fans.
This is why I've put together a completely free course that you can check out called Facebook Ads For Musicians' Spotify Streams. 🙂
Music Publishing Royalties Collection
For collecting all of the publishing, mechanical, and live performance royalties owed to me whenever my music gets streamed or played, my go-to is Songtrust.
Songtrust is a publishing administration company which means that in addition to collecting all of those royalties for me, they do it on a global level.
To learn if Songtrust is right for you, I'd recommend checking out this article on Songtrust vs BMI.
And if you want to get started with Songtrust right now, I'd recommend learning about the Songtrust discount code so that you can get the best price. 🙂
Website & Smart Links
I'm personally not a big fan of the link-in-bio and smart links for music pages like ToneDen and Hyppeddit.
Instead, I prefer having a full-blown WordPress website that allows me to have a full website in addition to unlimited music links.
For getting started with this, I really like Bluehost because it is the cheapest and a theme called Thrive Themes because it is the most flexible and easiest to use.
I've actually created a free Smart Links Course that you can take to learn how to get set up and start getting more streams with custom smart links (I've even included the templates I am using!).
Want more tools and resources for your music career?
If you'd like to see even more of my favorite marketing tools and resources for musicians and music artists, I've created an even larger list on this page: Best Marketing Tools & Resources For Musicians (& Music Artists).
P.S. There are even some free tools and resources included on that page as well! 🙂