I'm going to show you how you can maximize your results with Spotify wrapped 2022 as an artist using Spotify's new feature that lets you create a video message for your top fans.
Spotify is pushing artists this year to make more of an effort with Spotify Wrapped by making a preparation checklist and a new video message feature available.
What Is Spotify Wrapped?
Spotify Wrapped is an interactive website, shareables, and personalized "Top Songs" playlist that Spotify makes available to fans at the end of each year to let fans learn more about the artists and songs they've been listening to most in the past year.
Although the excitement and engagement for Spotify Wrapped's personalized website and playlist are usually at the end of each year, the website and the playlist are available at all times.
This is important because you can continue to get exposure to your music long after the hype dies down.
The screenshot above shows that I personally continue to get some streams per month from the Spotify Wrapped 2021 playlist even in October 2022.
Spotify Wrapped 2022 Explained For Artists
This year, Spotify is taking Spotify Wrapped more seriously by allowing artists access to 2 new things inside of their Spotify For Artists dashboards:
A (mostly useless) checklist for how you can "get ready" for this year's Wrapped
The ability to upload a video for your 2022 Wrapped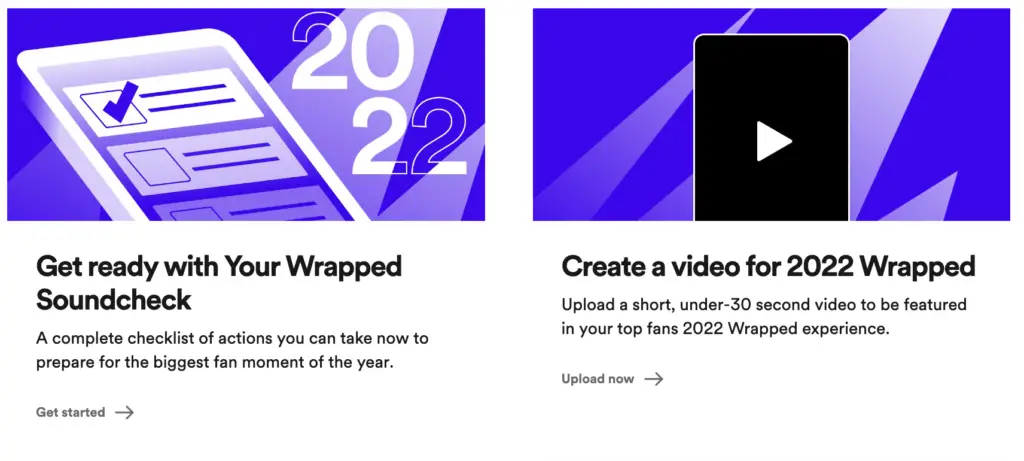 Of these 2 things, the most important is that artists can now create a personalized video message that has the opportunity to show up to their top fans.
The requirements for Spotify Wrapped 2022 video messages are:
Artists must upload their video message between October 24th and November 18th
The video must be 30s long max
The video should be in a vertical format shot on a phone
There can be no music or singing in the background and no brands or logos are visible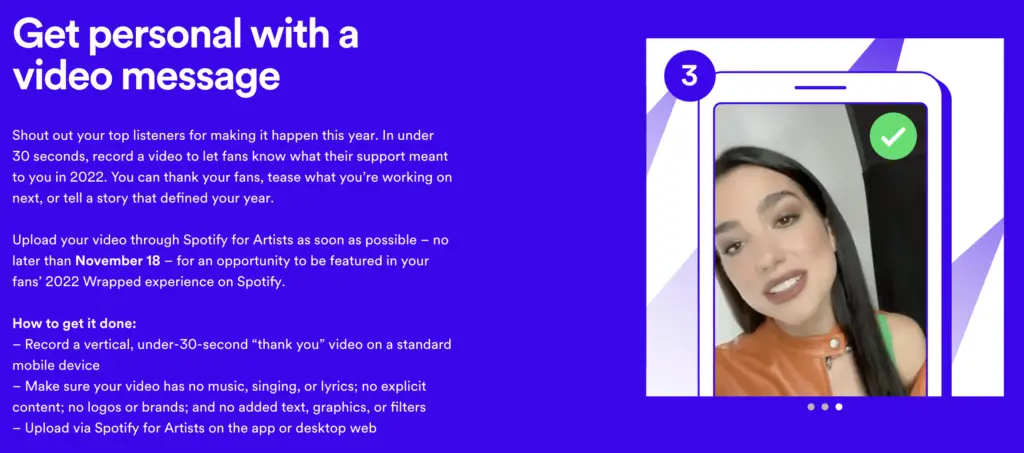 The 3 main takeaways that I got from reviewing these requirements are that:
Spotify wants artists to create a very organic video similar to an informal Instagram story
Spotify does not want to have to deal with any copyright issues or have to pay out any royalties on these videos
There is no guarantee that your video will show up for fans and this is instead just an opportunity for it may show up
A listener on Spotify may be the top fan of multiple artists on Spotify, so they will likely be using an algorithm of some kind to choose which artist video message to play to a specific fan at any given time.
Because this is an opportunity for your video to show and not a guarantee, I have some tips and a template for you to give you the best chance of maximizing Spotify Wrapped 2022.
9 Tips For Creating Your Spotify Wrapped 2022 Video Message
Before sharing the video template/script that you can use when filming your video, here are 9 different tips that you will find useful when creating your Spotify Wrapped 2022 video message.
4 Tips For Scripting Your Video Message
Here are four tips that you can use when figuring out what to say in the video message for your Spotify Wrapped 2022:
Say hello and introduce yourself right at the top
Thank your fan for being a top fan of yours in 2022
Tease new music that you have coming out in 2023
Have a call to action (ie: follow on Spotify and/or follow on your most active social media platform)
5 Tips For Creating Your Video Message
Here are five tips that will help you while you are filming and creating your video message for Spotify Wrapped 2022:
Try to film in a 1-shot take to minimize any editing and make your video more organic
Make sure your video is an .MP4 format when uploading (iPhone's film in .MOV formats which may not upload)
Watch out when speaking the words "2022" and "2023" as you may stumble the words a bit when saying them often or back to back
Don't overthink your background and simply use your studio space or something really chill like outside or a living room
Use the template below to follow as a rough script when filming your video message
Spotify Wrapped 2022 Video Script Template
Use this script as a template when creating your own Spotify Wrapped 2022 video message:
Hello, my friend, it's Matt from Best Friends Club here!
Thank you so much for being one of my top fans for the year 2022. You have no idea what it means to me.
If you really enjoyed the music that I dropped in 2022, you are in for a real treat for what I have in store for you for 2023.
So if you wanna make sure that you do not miss a single song, make sure you're following me over on Spotify as well as over my Instagram where I post lots of cool behind-the-scenes stuff and snippets of new songs.
Thanks again for making my 2022 amazing. I hope yours was as well and I can't wait for what's in store. Talk soon!
Check out a preview of this template and get more detail on all the tips I mentioned in this article here: