At the time of writing this, I have over 5 million Spotify streams on the music that I wrote, produced, and released all by myself: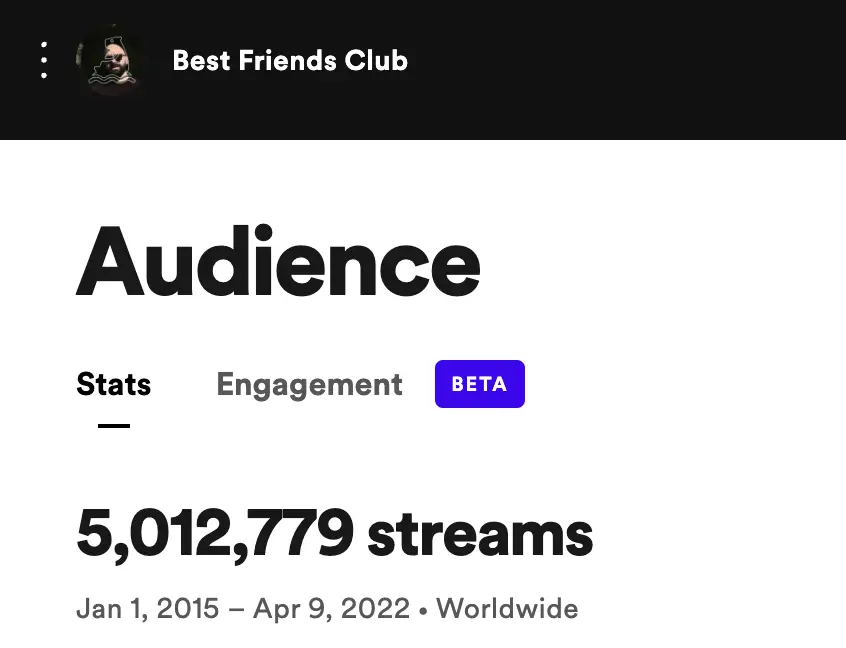 I'm pretty proud of this result but the truth is that before getting here I was really reluctant to focus on Spotify and didn't even want my music on there.
There are many reasons to hate Spotify: the royalty pay rate, how they choose to re-invest their profits, and the fact they have a new controversy every other week.
In all honesty, I still am not a huge fan of all the things that an artist today "needs" to do in order to succeed in general.
In my humble opinion…
Spotify, social media, and Facebook Ads all suck.
Artists have limited time and money, and these things can be ruthless wastes of not only time and money, but also energy and mental health.
But according to just about everyone on the Internet:
These things can really work to get amazing results for artists like you and me – no matter how easy they are to hate and struggle with.
This sucks for me because every single time I release a new song, I always wish it would get more streams than it does.
Every. Single. Time.
Now I've found that these things really do work – especially when used together and even more so when you work "smart" instead of "hard" with these tools.
What Did NOT Help Me Get Millions Of Streams On Spotify
I've spent 1,000s of dollars and hours getting good at music and have continued to faithfully spend my own time and limited money to make something happen with me music,
…with not much to show for it.
I've experimented with different genres, played in bands and on my own, and even had my high school "show promotion" company mentioned in a University of Toronto textbook:
The truth is that no matter what different strategies, tactics, or "music marketing" techniques I tried…
Nothing ever really stuck or got me any "meaningful" results with my music.
So I started thinking:
It is only a matter of time before I need to give in and face the reality that…
It was stupid to think I could ever make it in music and I should just stick to a soul-sucking 9-to-5 just like everyone else.
Besides…
Marketing is too technical, I don't have enough time, I don't have enough money, and I'd rather be spending all of that effort making meaningful music anyways…
So one day I did the unthinkable: I not only gave up on trying to make something happen with music…
I gave up on creating the music I loved so much altogether.
However, it was actually in these "Musical Dark Ages" that I found the spark that would change absolutely everything for me.
Instead of focusing on "hacks", 150 grueling tasks, and "Get Streams Quickly" schemes…
I discovered an unusual "release strategy" that grew my Spotify and music career with what was right under my nose the whole time.
The best part?
I actually didn't have to waste all my time and mental health on things like Spotify, social media, or Facebook Ads to start getting results like these:
I don't believe any artist should have to do "150 things" to promote their music properly…
This is why I kept experimenting until I discovered 7 simple steps that are more than enough to massively grow my Spotify without the usual stress, anxiety, and energy drain.
7 steps allowed me to focus on only the most effective things so that I could "copy and paste" my music promotion to quickly get results and get back to making music.
Copy & Paste 7 Steps Instead Of Wasting Time & Energy On 150 "Important" Tasks
This simple 7 step checklist is what I followed to get over 5 million Spotify streams.. and I STILL use it to this day to make sure I never forget an important step:
Submit your music to your distributor
Pitch your song to the Spotify editors
Prepare a few video assets for ads and social posts
Prepare your website or "music link"
Schedule simple Facebook Ads to drive listeners to your song
Schedule simple social media posts to bring older fans to your new song
Monitoring and adjusting the ads + replying to comments from fans
Alright – I might know what you are thinking…
These are devastatingly simple almost "no-brainer" tasks… so what is your secret… there must be more to this.
And you would be absolutely right about that, my friend.
Well… almost absolutely right.
Of course, I figured out small ways to do these things effectively while minimizing how much time I actually spent doing them…
But the secret is that to catch the attention of the Spotify algorithm, the Spotify editors, as well as your potential (and current) fans…
You must release music often in order to build up enough momentum in your music career for things to start "popping off".
Releasing an album of music every year or 2 is the "old" way of doing things that just do not work anymore.
When done properly, these 7 steps are massively effective, and most importantly, easy for any artist to "rinse and repeat" when it comes time to release new music.
The simpler your music promotion, the easier it is for you to release music often and promote it properly without burning out or sacrificing every other aspect of your life.
There's even science and psychology to what makes this work.
But, first I want to let you know about how close I was to never escaping the "struggling musician" lifestyle just because I almost "did it" again…
Why YOU Should NEVER Give Up On Your Music
So.. I finally discovered a unique "hands-off" trick to attract hordes of fans eager to support me and my music.
I actually became the artist that spends more time creating music than doing annoying marketing or promotion… but still gets explosive streaming numbers.
The odd little secret of "copying and pasting" allowed me to retake control of my time and energy to finally kickstart a real music career that I had always dreamed of since before high school.
The worst part?
I had almost given up again. 
Even though I had figured out the secret to effortlessly promoting my music so that I could easily release new music often…
And even though I was slowly building up momentum release after release after release…
I always found myself disappointed in the number of streams my music would get.
In October 2020, I released a song that got a relatively low amount of streams:
I had higher hopes for the song and it was this result that made me almost think it was all still hopeless.
However, the very next month, I released a song that now has a relatively high number of streams:
If I had given up at that moment, I would have completely missed out on getting results I never even knew I was capable of.
…and since then?
No more relying on "hope" or "luck" for my next release to be a success.
Knowing exactly how Spotify, its algorithm, and playlists work so that Spotify works for me and my goals instead of the other way around.
Real fans waiting for the new songs I effortlessly drop each month, labels and music industry folk asking how I'm able to do all of this, even earning some decent money directly from my music…
All with a simple "Copy And Paste" release strategy and proven music marketing tactics.
All almost completely thrown away, wasted, and missed out on from nearly giving up just too soon…
This is exactly why YOU should never give up on your music either, my friend.
If you truly have a passion for this stuff, you can also make your own success inevitable by continuing to show up and committing to your growth as an artist and "music business".
How You Can Go From 0 To 5 Million Streams Too
The very first thing I'd recommend any artist to check out is my "7 Step Release Checklist" that you can get here: https://bestfriendsclub.ca/release-checklist
It has the same 7 steps that I mentioned earlier, but it's actually an interactive checklist with many secrets, tips, and tricks for you to uncover.
Each step can be expanded to show you why it's important and how you can go about doing that step in the best way possible.
For some of the steps, I even link out to completely free courses that I've created for you to help you ditch the "struggling artist" lifestyle too.
Next – if you want to learn more about the strategy and how you can "hack" the Spotify algorithm to get wild results…
I'd recommend checking out this YouTube playlist I've put together for you: https://youtube.com/playlist?list=PLHmXQrkZqFioLzooRggrhpKXW65morqxc
There are several videos that I've created for you that I know you will definitely find useful.
Finally – if you're like me, ambitious and ready to take it to the next level…
You're going to love my complete master class here: https://bestfriendsclub.ca/o/ssm-tdsl-sale/
WARNING! That program is extensive – it is about how you can transform into a "Music Releasing Machine" that gets the type of results that will make other artists and industry folk come asking for your secret.
It's not just about how to use Facebook Ads to grow your Spotify streams.
It's not even just about how you can succeed as an artist on Spotify.
Sure – it includes both of those things.
However, it is truly everything I know about going from a "struggling artist" to an artist with over 5 million Spotify streams that has a growing "buzz" around them…
All organized in a step-by-step blueprint that I honestly wish I had available to me when I was first starting out.
There's lots here to sink your teeth into, so I'll leave you to it and see you again soon, my friend!
– Matt
Some of my favorite music marketing tools
Thank you for reading this article, my friend, and I hope you found it helpful as you build your own successful career in music. 🙂
Here is a list of my favorite and most recommended tools and resources that I've personally used to get my music streamed over 4,000,000 times on Spotify as an artist.
Any of the paid services or tools listed here are most likely affiliate links, so if you do decide to use any of them, I'll earn a small commission.
But in all honesty, these are the exact tools that I personally use, love, and recommend to anyone – including my own friends and family.
Music Distribution
To get your music on Spotify on all the other streaming services, I use DistroKid because you get unlimited song uploads for a low annual price.
If you want to learn more about DistroKid and music distribution, check out the in-depth DistroKid review that I've put together.
Or, if you want to get started with DistroKid right now, you can save on your first year with the DistroKid discount.
Facebook Ads For Spotify Success
Although Facebook Ads can be a real pain to get working properly, there is no denying that they are incredible for growing Spotify streams and getting your music in front of real fans.
This is why I've put together a completely free course that you can check out called Facebook Ads For Musicians' Spotify Streams. 🙂
Music Publishing Royalties Collection
For collecting all of the publishing, mechanical, and live performance royalties owed to me whenever my music gets streamed or played, my go-to is Songtrust.
Songtrust is a publishing administration company which means that in addition to collecting all of those royalties for me, they do it on a global level.
To learn if Songtrust is right for you, I'd recommend checking out this article on Songtrust vs BMI.
And if you want to get started with Songtrust right now, I'd recommend learning about the Songtrust discount code so that you can get the best price. 🙂
Website & Smart Links
I'm personally not a big fan of the link-in-bio and smart links for music pages like ToneDen and Hyppeddit.
Instead, I prefer having a full-blown WordPress website that allows me to have a full website in addition to unlimited music links.
For getting started with this, I really like Bluehost because it is the cheapest and a theme called Thrive Themes because it is the most flexible and easiest to use.
I've actually created a free Smart Links Course that you can take to learn how to get set up and start getting more streams with custom smart links (I've even included the templates I am using!).
Want more tools and resources for your music career?
If you'd like to see even more of my favorite marketing tools and resources for musicians and music artists, I've created an even larger list on this page: Best Marketing Tools & Resources For Musicians (& Music Artists).
P.S. There are even some free tools and resources included on that page as well! 🙂