Not too long ago, one of my students sent me an email asking a very simple question.
That question was: "Out of all of the things you've tried, what has had the biggest impact on the results you get?"
It only took a half-second for me to know that the answer to the question was "Facebook Ads".
…well, Facebook Ads & consistency (to be completely honest about how I answered that question!).
You see, over the 15+ years I've been trying to make it in music, I've also experimented with live shows, album launches, Facebook Messenger bot experiences, PR, social media, playlist pitching, etc.
When it comes to digital ads alone, I've spent quite a bit of my own hard-earned money and precious time on different advertising platforms from Facebook to YouTube and Google.
…and the sad truth is that most of the ad campaigns that I tried were completely failed experiments.
However, once I committed to a consistent monthly release schedule and dialed in my Facebook Ads correctly, my experiments started to look like this:
…so how exactly did this happen?
Well, it definitely wasn't overnight I can tell you that, my friend.
A Look At My Initial Spotify Results With Facebook Ads
Before I started using Facebook Ads to promote my releases, I would be lucky to see 1 stream every few days.
But in April 2020, I had a "more-important-than-usual" type of release so I decided to throw a bit of Facebook advertising dollars behind the release.
I didn't spend much at all and the results weren't insane, but I definitely got much more than my usual 10 or 20 streams per month:
So I decided to run more of these limited-budget Facebook Ads for my next release, which now looks like this:
Now neither one of these days were the day that everything changed for me…
For the next few months, I kept releasing new music and fine-tuning how I ran my Facebook Ads.
There were ups and downs, winners and losers… and I just kept at it.
On November 9th 2020, I released a song called 'Lofi Nights'.
Take a look at the number of streams this bad boy had a couple of months ago:
It turns out, that by consistently releasing new music and sending highly targeted listeners to that new music…
You can not only catch the attention of the Spotify algorithm but also the Spotify editors.
Remember Facebook Ads alone can't get you these results. You need to also pair your ads with a consistent release strategy as well.
This is why I continued to release new music, fine-tune my ads, fine-tune my marketing, and fine-tune my music promotion activities…
To the point where my total amount of streams now looks like this: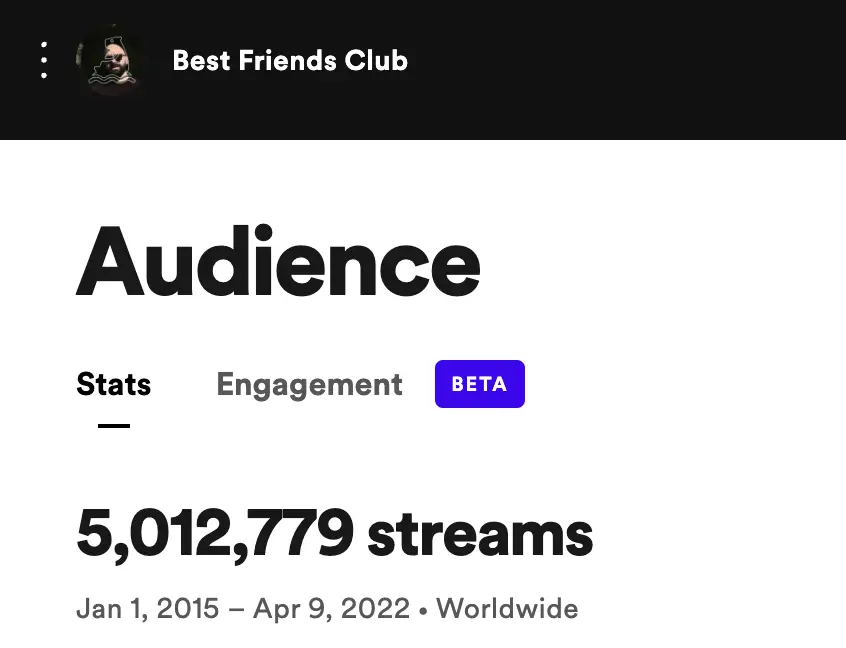 Not too shabby eh, my friend?
…but there is something I may have not told you yet.
Using Facebook Ads Outside Of Spotify Promotion
At this point, you probably already know that I've reached about a pretty awesome number of Spotify streams and accomplished most of this using Facebook Ads.
What you may not know is that I accomplished all of this music stuff while working a 9-to-5 as the head of marketing at a tech startup in Toronto.
And although I learned a lot of different things at that job, one of the more useful things I learned was modern digital marketing and the power of Facebook Ads.
Using primarily Facebook Ads as our traffic source, we made over $4,000,000 USD in revenue before I left to pursue music full-time.
To put it simply: this hasn't been my first rodeo with Facebook Ads and I was able to leverage my past knowledge and experience to get results quicker.
In that job specifically, I went from personally running the ads to managing a media buyer to managing external marketing agencies.
On top of that…
I had also experimented with Facebook Ads to grow an email list of fans, get views on YouTube, and even grow a list of subscribers on a weird Facebook Messenger Bot that I had built for my music.
My past experiences definitely gave me a head start and helped me more efficiently and effectively leverage Facebook Ads to grow my Spotify streams.
…and in more ways than you even might think at first…
Why Every Artist & Musician NEEDS To Know Facebook Ads
What makes Facebook Ads so special is not the fact that they can be used to put your music in front of an audience that genuinely wants to listen to it (although that is awesome).
What really makes Facebook Ads so special is the fact that you can use them to reach any type of objective that you want.
Whether that is selling more merch, tickets, growing a Discord server, getting new subscribers to your Patreon or membership, or anything else you can dream up.
On top of this, after you learn and understand Facebook Ads, you will be able to easily pick up on any other digital advertising platform quickly and intuitively.
In fact, the "campaign > ad set > ad" structure in the Facebook Ads Manager has been more or less copied by newer ad platforms from Snapchat and TikTok.
In short: learning Facebook Ads gives you the power to take control of your music career and go in any direction you please (even if that direction doesn't involve Facebook at all).
When you grow as an artist and end up hiring a marketing agency or a team to handle your ads…
You will always be able to make sure they are doing things correctly and be in a better place when negotiating the deal.
This is exactly why I strongly believe every artist should make an honest attempt to learn and conquer Facebook Ads.
If not for the increase in Spotify streams, then for the general music marketing knowledge that you will gain in the process.
How You Can Get Started With Facebook Ads For Spotify Growth
If you want to get started with Facebook Ads today, I'd recommend taking this free course that I made for you called Facebook Ads For Musicians.
That course will take you through the strategy of how Facebook Ads can be used to grow real streams as well as the exact step-by-step process of properly setting up your ad account and launching your first ad.
That course is laid out like a really long article, so if you would like you can also sign up for free to get a traditional course format version that has lessons and modules you can move through at your own pace.
That version is still free and I even throw in a "Facebook Ads For Spotify Growth Checklist" to make sure you can easily follow along and get this done the right way. 🙂
Some of my favorite music marketing tools
Thank you for reading this article, my friend, and I hope you found it helpful as you build your own successful career in music. 🙂
Here is a list of my favorite and most recommended tools and resources that I've personally used to get my music streamed over 4,000,000 times on Spotify as an artist.
Any of the paid services or tools listed here are most likely affiliate links, so if you do decide to use any of them, I'll earn a small commission.
But in all honesty, these are the exact tools that I personally use, love, and recommend to anyone – including my own friends and family.
Music Distribution
To get your music on Spotify on all the other streaming services, I use DistroKid because you get unlimited song uploads for a low annual price.
If you want to learn more about DistroKid and music distribution, check out the in-depth DistroKid review that I've put together.
Or, if you want to get started with DistroKid right now, you can save on your first year with the DistroKid discount.
Facebook Ads For Spotify Success
Although Facebook Ads can be a real pain to get working properly, there is no denying that they are incredible for growing Spotify streams and getting your music in front of real fans.
This is why I've put together a completely free course that you can check out called Facebook Ads For Musicians' Spotify Streams. 🙂
Music Publishing Royalties Collection
For collecting all of the publishing, mechanical, and live performance royalties owed to me whenever my music gets streamed or played, my go-to is Songtrust.
Songtrust is a publishing administration company which means that in addition to collecting all of those royalties for me, they do it on a global level.
To learn if Songtrust is right for you, I'd recommend checking out this article on Songtrust vs BMI.
And if you want to get started with Songtrust right now, I'd recommend learning about the Songtrust discount code so that you can get the best price. 🙂
Website & Smart Links
I'm personally not a big fan of the link-in-bio and smart links for music pages like ToneDen and Hyppeddit.
Instead, I prefer having a full-blown WordPress website that allows me to have a full website in addition to unlimited music links.
For getting started with this, I really like Bluehost because it is the cheapest and a theme called Thrive Themes because it is the most flexible and easiest to use.
I've actually created a free Smart Links Course that you can take to learn how to get set up and start getting more streams with custom smart links (I've even included the templates I am using!).
Want more tools and resources for your music career?
If you'd like to see even more of my favorite marketing tools and resources for musicians and music artists, I've created an even larger list on this page: Best Marketing Tools & Resources For Musicians (& Music Artists).
P.S. There are even some free tools and resources included on that page as well! 🙂