Creating a Spotify playlist with a healthy number of engaged followers is a fantastic way to increase Spotify streams for your own music, build up credibility as a "tastemaker", and even earn a bit of side money.
In this article, I'll guide you through the process of building up and promoting your own Spotify playlist based on what I've learned by building up multiple Spotify playlists myself that have 1,000s of followers each.
The best way to promote a Spotify playlist is with Facebook and Instagram ads. Promoting your playlists with search engine optimization, on social media and forums can also work but takes longer and can be less effective.
When looking at how you can promote your Spotify playlist you need to decide if you want to invest more of your time or more of your money to get the results you want.
If you're looking for any "hacks" or "schemes" for promoting your Spotify playlist, I'd click off this article immediately – this article will only focus on how you can promote a Spotify playlist in legit ways that get real results.
So – if you're ready to learn how you can promote your Spotify playlist to have 1,000s of real and highly-engaged followers and listeners, simply keep on reading, my friend. 🙂
4 Ways To Promote Your Spotify Playlist
Although there are certainly more ways to promote a Spotify playlist, I've found that there are really 4 ways that are worth your time since they get reliable and proven results.
The 4 main ways to grow your Spotify playlist followers are to:
Run Facebook and Instagram ads by targeting listeners who are likely to enjoy your playlist to your playlist
Use SEO (search engine optimization) to get organic followers for free
Promote your playlists on your own social media accounts
Promote your playlist on forums and subreddits
We'll take a closer look at these methods shortly, but first a very important warning:
Whichever way you choose to promote your playlist…
It is important to focus on attracting real listeners that will actively use and engage with your playlist.
Why is this?
If you are an artist on Spotify:
Spotify is cracking down on artificial streams from bots or click farms, meaning that your playlist could be removed completely if Spotify is suspicious.
In addition to this, Spotify may take away your fake streams and even remove from Spotify altogether if you engage in this behavior.
To learn more about this, check out my article called My Spotify Streams Went Down (& How To Fix It).
If you plan on making money from your Spotify playlists:
Artists will only want to pay to be on playlists that actually get them streams.
Playlist submission companies will only accept playlists with (real) active and engaged listeners.
Even if you somehow manage to trick any unsuspecting artists or companies, your success will be short-lived since you will eventually get caught and no one will want anything to do with you.
How To Promote Your Spotify Playlist With Facebook Ads
Out of all the ways to promote a Spotify playlist, using Facebook Ads is definitely my preferred way.
Can they be challenging to set up and run correctly? Yes.
Does it suck that you have to pay money to grow your playlist? Absolutely.
With that said, using digital ads has been the most effective way to "target" potential listeners that are very likely to love your playlist, follow it, be highly engaged and keep coming back to actually listen to it.
The Facebook Ads platform has in-depth targeting options that allow you to put an ad promoting your playlist in front of people based on the artists, genres, and record labels that they listen to and are interested in.
This is a game-changer in itself but Facebook also has a built-in algorithm that can optimize itself to get the most results possible for the lowest cost possible.
Once you have things set up correctly, you can "set and forget" this promotion tactic so that it runs all the time and can cost you as little as $1 per day.
To learn exactly how to set up Facebook Ads, check out my free Facebook Ads For Musicians course (no email or sign up required!).
If you don't want to spend a crazy amount of your time promoting your Spotify playlist and have some money to spare, this is definitely the method for you.
How To Promote Your Spotify Playlist With SEO (Search Engine Optimization)
The great thing about using SEO to promote your Spotify playlist is that if you can get it working you will be able to grow your playlist for free.
At its simplest, search engine optimization basically means adjusting the words you use (in your playlist name and description for example) to align with what listeners are actually typing into the search bar.
When approaching SEO you should understand that competition has a big role to play in what kind of results you might see.
If you want people who search "chill" to find your playlist, you can put the word "chill" in the playlist name but you are also competing with every other playlist that is using that word.
…so how does this work?
There are 2 search engines that you can "optimize" to put your playlist in front of eager listeners: the Google search engine and the Spotify search engine.
My understanding of Spotify's SEO is that it is super basic:
They really only have 1 top position in the search results and it simply goes to the playlist that has the most followers.
Scrolling down to the "Playlists" section of a search on Spotify shows that it generally follows the same rule, however, it can randomly have playlists with very small follower counts.
Unfortunately, beyond that Spotify doesn't seem to be too concerned about SEO and instead focuses on developing its algorithm and Spotify algorithmic playlists.
One aspect of the Spotify algorithm that you may be able to take advantage of is the fact that it uses NLP (natural language processing) to an extent with its recommendations.
Spotify has "bots/spiders" that crawl the web looking for keywords and associating artists/genres/etc with other artists/genres/etc.
This means that you could try to write articles or get press for your playlist to catch the Spotify algorithm as well as to rank on Google for these search terms to drive traffic to your playlists.
How To Promote Your Spotify Playlist With Social Media
The truth about using social media to promote your Spotify playlist is that you need to have an active and engaged fanbase first if you want to see any results.
This method of promotion takes longer and will take a lot of time and effort on your part to do correctly… but it does have benefits outside of just Spotify playlist promotion.
The best way to build a fanbase on social media that wants to support you and your Spotify playlists is to consistently release new content by combining a recurring content strategy with a content calendar.
Freely giving away valuable content on a consistent basis is truly the key to building up an audience that will not only follow and engage with your Spotify playlist but will also be interested in anything you are working on.
The main difference between a recurring content strategy and a content calendar is that the strategy is more high level (ie: types of things you will post) and the content calendar is more specific (ie: exactly what you will post and when).
To learn more about how you can build a fanbase on social media with a recurring content strategy and content calendar, check out my free guide called How To Build A Fanbase On Social Media. 🙂
Why Promoting Your Spotify Playlist With Forums & Reddit Sucks
Using things like forums and Reddit to promote your Spotify playlist can definitely work but is something I personally hate doing and wouldn't recommend it.
The idea is to engage in online communities for a decent chunk of time and then start recommending your playlist to people or posting about your playlist.
If you jump into a community and start spamming your playlist: it will not go over well.
If you are part of a community for a while and then start posting about your playlist too often: it will not go over well.
It's just so easy to come across like a jerk and ruin your reputation with methods like this that I could NOT recommend it to anyone…
Especially if you don't plan to genuinely get involved with these communities and just see this as a promotional opportunity.
This method of promotion will take up a lot of your time and can have very unreliable results.
The Top 3 Ways To Make Money With Spotify Playlists
To make money from Spotify playlists you need to build up the playlist's follower count with real listeners before you get paid directly from artists for song placements, for reviewing song submissions, or by selling your playlist.
Although there can be any number of ways to monetize a Spotify playlist, I've researched the top 3 ways and actually pursued one of these:
Get paid directly from artists for song placements
Get paid for considering a song placement by reviewing song submissions
Sell your playlist to someone else
If you'd like to learn more about building up and then monetizing your own Spotify playlists, check out my article called How To Make Money From Spotify Playlists. 🙂
However, it is definitely worth emphasizing that:
You first need to build up your playlist's follower count with real, genuine, and active listeners to take advantage of any of these methods.
How To Promote Your Music On Spotify
Creating and building up a playlist is a fantastic way to promote your own music on Spotify as an artist.
…but it is definitely not the only way.
I've learned how to thoroughly promote music on Spotify based on what I've learned getting over 4,000,000 streams and over 20 official Spotify editorial playlists.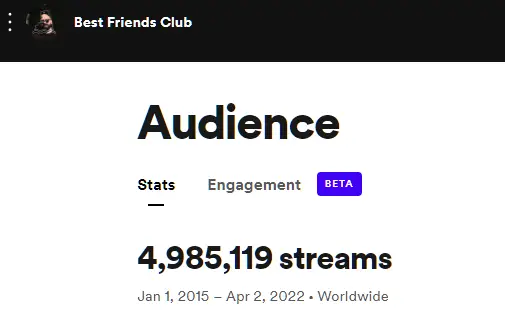 …all by myself without a label, manager, or marketing team.
Here are the 5 steps to properly promoting your music on Spotify:
Avoid "artificial" streams at all costs
Understand the Spotify algorithm & available Spotify playlists
Create a release strategy that takes advantage of the Spotify algorithm
Send high-quality listeners to Spotify
Follow a simple and repeatable promotion system
To learn more about how you can follow these 5 steps in more detail to effectively promote your music on Spotify, check out my full guide on How To Promote Your Music On Spotify. 🙂