Here's the honest truth:
No one gives a !@#$ about your music and the truth is there is only 1 thing you can do to change that…
You need to make them give a !@#$.
The people in your industry, other artists, playlist curators, Spotify editors…
You name it.
And the only way you can make them give a shit is by doing just 1 thing:
You need to make your fans give a !@#$.
So how do you accomplish this… "simple" task?
It really is simple.
You have to be relentless.
Promote that music to brand new fans each month.

Create an automated way to reach out to the fans, listeners, and followers you've gained in all of the months that you have been doing this.
…however, it's not just about consistent content and proper promotion.
You also need to commit to constantly writing and releasing better and better music.
Because let's face it…
Your music could always be better and of higher quality.
Or at the very least – you could be making minor improvements based on how your community has been reacting to your previous releases.
And if your music is not quite there yet…
There is absolutely no reason to hold off on releasing it.
Because your early fans will be able to look past a lot of what your future fans can.
Your music can be a bit rough around the edges.
…or not quite mixed or mastered properly..
It won't stop those early fans who want to be along for your journey.
They will cheer you on as you get better and better the more that you release new music.
They want to share in your early successes – no matter how small.
And they may even tell their friends about you after you've stacked a few wins.
But first, you need to do 2 simple things:
Commit to showing up every day, week, and month
Commit to improving every aspects of your releases and further honing your craft
If I've learned one thing on my way to passing 4,000,000 streams…
It's that showing up and improving is the only way to make them give a !@#$.
Because it's like I said earlier…
You need to be relentless.
Because the same thing goes for non-fans like playlist curators and the Spotify editors.
You need to give them no way NOT to pay attention to you.
By getting in front of them with new music as often as you can and show them that the quality and quantity have improved.
The quality of your music.
The quantity of growing streams, listeners, and followers.
That growing number of new playlists and libraries your new releases AND back catalog of music getting added to.
It's only then when the title of this little rant of mine is no longer true…
But for now…
No one give a !@#$ about your music. 💩
How I Personally Got To 1 Million Streams On Spotify
It's taken a long time. A very, very long time. But.. it's been extremely worth it.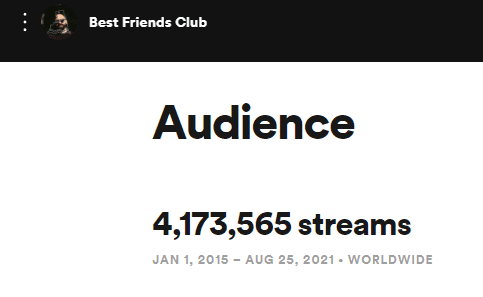 17 years ago I got my very first guitar, a sick Squier Stratocaster in sunburst (that I'd later bust-up quite a bit in my Nirvana phase) that started my life as a musician.
This lead to countless bands, live shows to usually 5 people (aka our parents and girlfriends), recording sessions, G.A.S. attacks, MySpace pages, and failed projects.
It took 17 whole years but I finally got what I always wanted since I was a 13-year-old kid…
A simple sliver of proof that I wasn't crazy to be so obsessed with music and that I could actually make my passion for music my life.
Fast forward to today:
Over 3.5 million streams
15+ official Spotify editorial placements
Support from big-time artists like Martin Garrix and Foals
Real, living, and breathing human beings reaching out saying that they dig my music
I've learned so much along the way, made too many mistakes, and probably spent too much money and too much time.
…And if you're reading this right now, I'm happy to have the chance to be able to share all of those years of knowledge with you so you don't need to go through the same struggles that I did.
Why Most Artists Can't Even Pass 1,000 Streams 
Although I've only been releasing music on Spotify since 2019, I've been in some kind of different musical project or band since I was 13 years old.
In that time, I've experimented with live shows, album launches, YouTube ads, Google Ads, Facebook Ads, Facebook Messenger bot experiences, PR, social media, playlist pitching…
You name it, I've probably tried it.
In that time, I also spent quite a bit of money on different advertising platforms from Facebook to YouTube and Google.
…and unfortunately, most of the strategies I tried were failed experiments.
After spending all of this time and money on what wasn't really working for me, I'm almost ashamed to admit that I almost did the unforgivable…
I almost decided to give up on really pursuing music.
Thankfully, I didn't give up.
As soon as I knew that I had stumbled upon a strategy that could actually get me wins, things got way easier and… more exciting.
I no longer had to waste time, energy, or money on strategies that didn't help me grow my Spotify streams and career.
Instead, I could just focus that time, energy, and money on that 1 strategy that started to finally work for me.
To learn more about this, check out my full article called What Spotify Doesn't Tell Artists About Their Algorithm & Playlists. 🙂
The 2 Simple Things That Successful Artists Do Differently
Now, you've probably heard me brag about passing 4,000,000 streams on Spotify just about 4 million times now…
However, something that I DON'T share so often is this:
Getting results like that is not just about Facebook ads or playlisting promotions.
It's also about:
Branding
Social Media
Web Presence
Building Momentum (or "buzz")
…and most importantly… 
Having an active and growing fanbase of real, genuine music lovers that actually care about you and what you do.
And to accomplish this, you need to do 2 simple things:
Commit to showing up every day, week, and month with fresh content

Commit to improving and further honing your craft
Because if I've learned one thing on my way to passing 4,000,000 streams…
It's that showing up and improving is the only way to make anyone actually give a shit about your music.
The best part?
Creating enough content to properly promote your music can be fun, easy, and stress-free.
Despite what music companies would have you believe, there are only 1 or 2 budget-friendly services that you need to spend your time and money on.
And that by using the right productivity tools, time-management processes, and ready-to-use templates, you'll have more time to focus on what really matters…
Writing more music, honing your craft, and engaging with fans.
To learn more about this, check out my full article called The Secret To Preparing Your Best Music Promotion Campaign Without Having To Quit Your Day Job.
Facebook & Instagram Ads For Musicians To Grow Spotify Streams
Facebook and Instagram ads are an effective tool for musicians looking to grow Spotify streams and followers because Facebook provides in-depth targeting options, flexible budgeting, and has an algorithm that can optimize itself to get the most results possible for the lowest cost possible.
More specifically, here are 5 key reasons that Facebook ads are so effective for Spotify growth:
There are in-depth targeting options for a very wide variety of interests in addition to basic demographics – interests range from brands to genres to artists to products and beyond

You can "scale" the ads and control your budget – the more you spend the more results you get, in comparison you can only post on social media so many times in 1 day before people get upset

Facebook's learning algorithm can optimize all by itself to get you the most results possible for the lowest cost possible

You can place people that engage with you into "Custom Audiences" and Retarget them with ads at a lower cost than it took to reach them in the first place

You can leverage the Facebook algorithm to create "Lookalike Audiences" which are 1+ million people that are similar to your fans inside of those Custom Audiences
All this means that:
You have the power to send highly targeted listeners over to your Spotify profile

Leverage the Facebook algorithm to find more of those fans for less

Increase your chances of tripping the Spotify algorithm to find you even more of your fans for free
To learn more about this strategy, check out my article on Facebook & Instagram Ads For Musicians. 🙂