If you're looking to release music online, I've created this step-by-step guide that you can follow based on how I've personally released 20+ songs that have made me over 5 million Spotify streams to date.
To release music online, all you need is a music distribution account to get your music on streaming services. In addition to this, it is best to create a long-term release strategy and promote your music with social media and digital ads to maximize the number of streams your music gets.
In this handy guide on how to release music online, I will walk you through creating a custom release strategy for your own music as well as exactly how you can distribute and promote your music most effectively.
I've also created a free 7-step release checklist that you can use as a "single release template" in hand with this guide so that you are ready to release music like a pro, fast.
The steps in this guide (and the free checklist) are the exact steps I follow (and continue to follow to this day) that have helped me achieve over 5 million Spotify streams: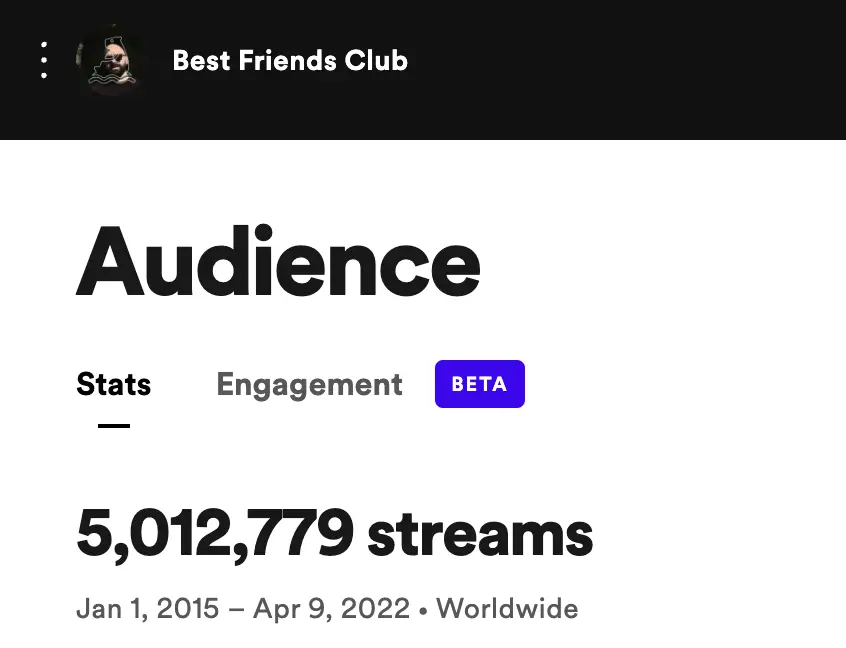 So if you're ready to start releasing music online better than even a record label can, grab your free checklist, and let's jump right in, my friend. 🙂
How To Release Music Independently
To properly release music as an independent artist, you need a solid long-term plan for when you are going to release new music and how you are going to promote it.
However…
To release music independently, all you really need is finished music and a music distribution account to get your music up on streaming services like Spotify and Apple Music.
Although music promotion is a big part of successfully releasing music independently (which will do a deep dive into shortly), the basics really do come down to just having music you are happy with and a way to get that music online.
Once you have music distribution figured out, we can move on to planning your music release strategy so that you get the most amount of streams and exposure possible.
Music Distribution For Independent Artists
The best way for an independent artist to easily get their music distributed to streaming services is by using a modern music distribution company like DistroKid.
Before companies like DistroKid, it was very expensive and out of reach for smaller artists (which made music distribution a thing you would need a record label to do for you).
Today, getting your music on streaming services like Spotify and Apple Music is so cheap and easy that record labels are nowhere near as important as they used to be.
Which is a great thing for you and me as independent artists. 🙂
Although I think DistroKid is awesome and definitely recommend it (it is what I personally use), I also did a bunch of research before selecting them and recommend you do as well.
You can check out my big fat DistroKid review to learn more (and make sure you learn about the DistroKid discount in particular if you want to go with them).
Also – here are some other music distribution companies that I have researched and compared to DistroKid:
For more on this process of getting music released, check out my full guide called How To Release Music On Spotify. 🙂
Once you have picked a music distributor and know how to distribute your music, it's time to create a music release strategy that is more effective than even a record label could create for you.
Music Promotion For Independent Artists
If you want the music that you release independently to reach the number of ears it deserves to reach, you need to properly plan your music release strategy and take music promotion seriously.
Here are the 5 steps I would recommend you take when you are preparing to start releasing your own music independently:
Create Your Long-term Music Release Plan & Strategy
Prepare Social Media To Promote Your Music & Get Fans
Setup Your Website To Build Your Online Presence
Prepare Facebook Advertising To Trigger The Spotify Algorithm
Use A Single Release Plan Template To Stay On Track & Grow Your Streams
These are the exact 5 steps that were easily the most impactful in helping me get over 5 million streams on Spotify of my own music: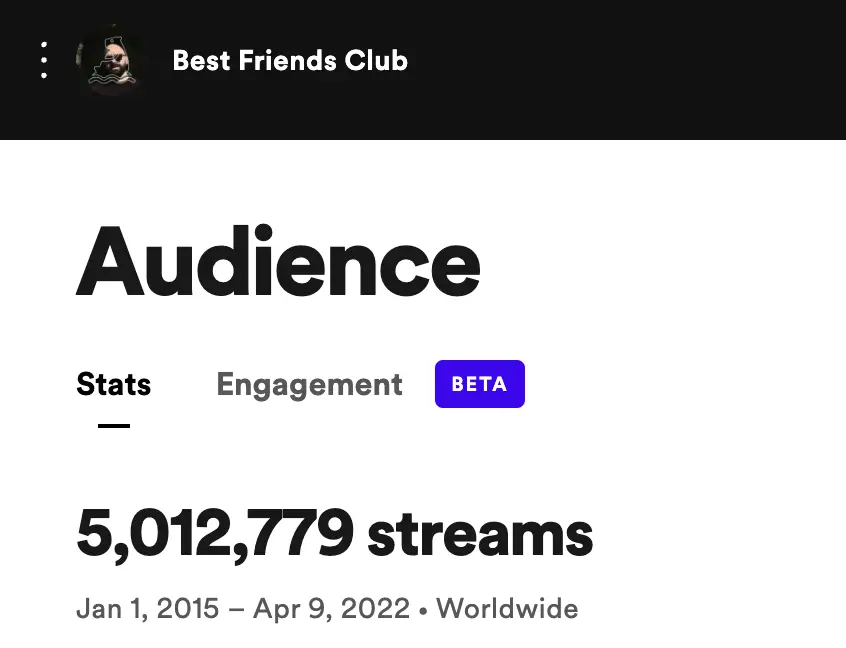 When I first started releasing music independently, I was lucky to get 2 or 3 streams per day and none of my releases passed the dreaded ">1000" mark on Spotify.
It was frustrating and all of the music promotion strategies and tactics were overwhelming and never really seemed to be effective.
In fact, it was so dang frustrating that I almost gave up on my music completely.. since it seemed like no one cared about my music.
However, it was at this low point that I discovered the long-term release strategy that changed everything for me and turned me from a struggling artist to one with 5 million streams.
You'll also notice that there are only 5 steps that are important and this is because music promotion had to be as "cut and paste" as possible so that I could easily "rinse and repeat" it often.
This is all because of the real "secret" behind the long-term music release plan and strategy that I discovered…
P.S. For more on this process of promoting your music, check out my full guide called How To Promote Music On Spotify. 🙂
1. Create Your Long-term Music Release Plan & Strategy
One of the most important things you can do if you want to successfully release music independently is create a long-term release plan and strategy for your music.
Because the truth is that if you think you'll be able to release 1 song and run a few Facebook ads to have that song pop…
You are dead wrong.
My recommendation is to plan out 6 – 12 months' worth of releases and make sure that your music is in a release-ready state so that you can truly focus on promotion once you get started.
In particular, I would recommend that you plan on releasing a new song every 28 days so that you can maximize your exposure on Spotify's algorithm playlists like Release Radar.
The "secret" here is that to catch the attention of the Spotify algorithm, the Spotify editors, as well as your potential (and current) fans…
You must release music often in order to build up enough momentum in your music career for things to start "popping off".
Releasing an album of music every year or 2 is the "old" way of doing things that just does not work anymore.
If you want to learn more about the strategy and how you can "hack" the Spotify algorithm to get wild results…
I'd recommend checking out this YouTube playlist I've put together for you: https://youtube.com/playlist?list=PLHmXQrkZqFioLzooRggrhpKXW65morqxc
There are several videos that I've created for you that I know you will definitely find useful and will teach you more about the Spotify algorithm and how you can make it work for you to get thousands of free streams.
Once you have your long-term music release plan mapped out with 6 – 12 months' worth of releases, it is time to start preparing your repeatable music promotion machine…
2. Use Social Media To Promote Your Music & Get Fans
One of the first forms of music promotion I would look into planning out is social media since it is both free and easy to get started ASAP.
Although you can't expect to get thousands (or even 100s) of streams from social media promotion, social media is incredibly important for building a real fanbase of active listeners and fans.
With that said, you will definitely be able to get extra streams from social media as well as repeat streams and engagement from fans you've already made (which is a great data point for the Spotify algorithm).
However, the real benefit of social media is how you can develop real relationships with fans, develop your "brand" or "identity" as an artist, and experiment with different ideas and promotions… all for free.
The "trick" here is to commit to freely giving away valuable content on a consistent basis so that you can build momentum in your career to the point that you have a real and supportive fanbase.
..so how do you do this?
The best way to build a fanbase on social media that wants to support you and your art is to consistently release new content by combining a recurring content strategy with a content calendar.
To learn more about how you can build a fanbase on social media with a recurring content strategy and content calendar, check out my guide called How To Build A Fanbase On Social Media. 🙂
That guide will help you build out a social media strategy that will work with the 6 – 12 month music release plan that you just built so that it supports the success of your releases.
…and if you are unsure of what social media platform you want to focus on, I've also got you covered in my article on The Best Social Media Platforms For Musicians & Music Artists. 🙂
3. Setup Your Website As A Musician To Build Your Online Presence
A very important part of being an artist or musician in this "new era" of releasing music is building an "online presence" as an artist or musician.
A musician's online presence is made up of 3 parts: website, social media, and digital ads. Being active with all 3 helps develop your brand and grow your fanbase by giving potential fans a reason to follow you.
Considering the fact that at least 60,000 songs are uploaded to Spotify each day, developing competencies in all 3 areas is key to developing a strong online presence and making sure you stand out as an independent artist.
Although a full-blown website will make you more professional and can be useful to send fans to, the most useful thing a musician's website is good for is future-proofing your online presence.
When you are ready to start running ads, selling merch, building a membership, or creating unique online fan experiences, a website will allow you to build out these things without having to pay for separate individual online services and tools.
For a more detailed look into the exact steps you need to follow to develop your online presence, check out my full guide on Online Presence For Musicians. 🙂
With that said, it does cost time and money to set up and manage a website, so if you don't feel like you are quite ready for one yet I would recommend at least starting with "music links".
Music Links For Promoting Your Music Independently
Music links are simple web pages that artists create so that fans can easily find links to an artist's song, album, or playlist on different streaming services like Spotify and Apple Music.
Also called smart links or smart URLs, these links can be sent directly to fans as well as added to social media profiles or "link in bio" areas.
There are also several free music links that you can look into if you are on a budget or just want to start experimenting with these promotional tools before committing to a paid option or full website.
To learn more about these "links" and exactly how you can get started setting them up, check out my full guide called Smart Links For Music Marketing. 🙂
In particular, one of the more interesting ways to use smart links is by combining them with digital advertising which can leverage the Spotify algorithm to massively grow streams, fans, and listeners.
This neatly leads us to…
4. Use Facebook Advertising For Musicians To Trigger The Spotify Algorithm
Hands down one of the biggest things that have helped me reach 5 million streams on Spotify is using Facebook Ads to put my music in front of people who like similar artists and genres as the music that I make.
Spotify rewards artists that bring highly targeted and engaged listeners to their platform by giving artists the opportunity to get placed on Spotify's algorithmic and editorial playlists.
If the Spotify algorithm notices that ANY song is streamed, saved, and listened to at higher than average rates it is much more likely to push that song out to similar people.
With Facebook Ads, you get the power to send highly targeted listeners over to your Spotify profile from Facebook and Instagram based on who likes similar artists and genres as you.
You can then leverage Facebook's detailed audience targeting tools, machine learning, and algorithms to optimize your ads by themselves and find you more of those fans for less.
…the catch?
It costs money to run ads and it can be a huge pain to not only set them up correctly but also to target the right audiences so that you get the most streams for the lowest cost.
In addition to this, Facebook Ads has a problem with bots and click farms, which is why it is important to send people to a "music link" first and set Facebook to optimize itself around everyone that clicks on the "Listen On Spotify" button there.
…confused yet, my friend?
Don't worry! I've also created another free guide that will dive more into the strategy of this as well as walk you through setting everything up and running your first ad, simply called Facebook Ads For Musicians. 🙂
From my experience, absolutely no other promotional tactic has come close to reliably and consistently driving meaningful and engaged listeners to my Spotify which in turn triggers the Spotify algorithm to get even more streams for free.
In addition to this, Facebook Ads are incredibly powerful not just for streams but for increasing merch sales, selling tickets, and just about any other goal you may be looking to achieve later on down the road.
Besides…
The hardest part is setting them up and then you can easily start to "copy/paste" your music promotion and put it on "auto-pilot" by following a single release plan template…
5. Use A Single Release Plan Template To Stay On Track & Grow Your Streams
Once you have a solid understanding of the strategy, you have mapped out 6 – 12 months' worth of releases, and have your social media plan, website (or music links), and ads set up, it is now time to get ready to actually carry out the strategy.
Because you will be repeating this process constantly, my recommendation is to focus on just a few very specific tasks.
By focusing only on a select few steps that are going to actually move the needle, you'll feel less overwhelmed and be able to easily repeat these steps for every single release you do.
This is why the very first thing I'd recommend any artist do is to check out is my free "7 Step Release Checklist" that you can get here: https://bestfriendsclub.ca/release-checklist
This checklist will be your "single release plan template" and is my little "secret" to simply "copy and paste" a few simple steps each time I am releasing a new song.
By following this checklist, you spend as little time promoting your music as possible and focus on creating more music instead (and these are the same 7 steps I follow to this day as I continue to release music each month).
This simple 7 step checklist is what I followed to get over 5 million Spotify streams.. and I STILL use it to this day to make sure I never forget an important step:
Submit your music to your distributor
Pitch your song to the Spotify editors
Prepare a few video assets for ads and social posts
Prepare your website or "music link"
Schedule simple Facebook Ads to drive listeners to your song
Schedule simple social media posts to bring older fans to your new song
Monitoring and adjusting the ads + replying to comments from fans
When done properly, these 7 steps are massively effective, and most importantly, easy for any artist to "rinse and repeat" when it comes time to release new music.
You see: the simpler your music promotion, the easier it is for you to release music often and promote it properly without burning out or sacrificing every other aspect of your life.
So to get started, I'd strongly recommend grabbing this free 7-step release checklist and going over it a few times.
The downloadable version not only has the same 7 steps that I mentioned earlier, but is actually an interactive checklist with many secrets, tips, and tricks for you to uncover.
For example, each step can be expanded to show you why it's important and how you can go about doing that step in the best way possible.
…and for some of the steps, I even link out to completely free courses that I've created for you to help you ditch the "struggling artist" lifestyle too. 🙂