When releasing music with a distributor like DistroKid, it is always important to know how to contact them and how good their customer support is in general. So, I did some research and wrote this article.
The main way to contact DistroKid is by submitting a support ticket through their contact form at distrokid.com/contact. They also have a FAQ or knowledge base with commonly asked questions and answers.
When trying to contact DistroKid, you will notice that, like most companies, they try their hardest to redirect you to their FAQ at all times and try to bury the contact information as much as possible.
The reason they do this is to make it quicker for you to find answers to common questions yourself and to reduce the amount of support tickets their customer support agents need to go through.
If you'd like to learn more about how to contact DistroKid, including if they have a phone number available and what the quality of their support is, simply read on, my friend. 🙂
How To Contact DistroKid Support
The main way to contact DistroKid is by submitting a support ticket through their contact form at distrokid.com/contact.
And when I mentioned earlier that they try their hardest to redirect you to the FAQ, I wasn't lying…
The main place you can find the contact form link is actually in an FAQ article itself (lol) that is titled "My Question Isn't In The FAQ. Can I Contact DistroKid?"
On top of this, at the time of writing this article, there are 2 links to the general FAQ in that article in addition to 5 other FAQ links to common questions.
Once you finally get to the contact form, this is what it looks like (as of January 2021 at least):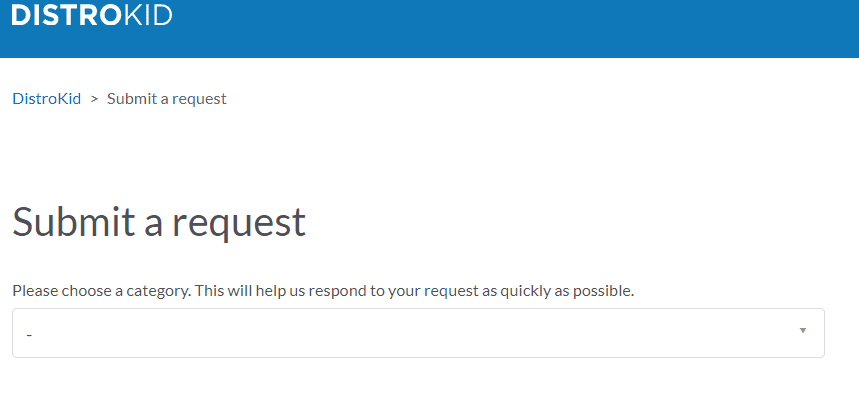 To use the 'Submit a request' feature, you need to select a category and continue to drill down into 1 or 2 more sub-categories until you see an "Email Us" button.
Once clicking on that button you will see a contact form where you can fill in your email address, your actual question, and potentially some additional fields with extra information about your request.
Can I contact or email DistroKid directly?
You can not contact or email DistroKid directly. You must contact them via the contact form in their FAQ or by sending a tweet to their official DistroKid account on Twitter.
After submitting a ticket with DistroKid, you will notice that the replies are coming from an email called "support@distrokid.com".
There is also a dated tweet that was sent in 2017 that mentions this email address:
So, naturally, you may be wondering if you can use this email address to contact DistroKid directly.
However, when sending a brand new email to this email address in January 2021, this is the automatic reply asking you to re-submit your request using their contact form that gets sent back to you:

So, unfortunately, no, you can not contact DistroKid directly via their general support email address. 🙁
Does DistroKid Have A Phone Number?
DistroKid does not have a publicly available phone number. DistroKid prefers that you contact them via a contact form in their FAQ or by tweeting to them on Twitter.
However, there is a phone number listed on DistroKid's profile on the Better Business Bureau.
A screenshot of the profile and the phone number listed as of January 2021, can be seen below:
You can visit DistroKid's BBB profile by clicking here.
Does DistroKid have an 1800 number?
DistroKid does not have a 1-800 number available. DistroKid prefers that you contact them via a contact form in their FAQ or by tweeting to them on Twitter.
What is DistroKid's address?
The Better Business Bureau lists DistroKid's address as 34 3rd Ave #183 in New York.
However, a blog article from 2017 states that DistroKid does not have an office and that everyone works from home.
DistroKid FAQ – Frequently Asked Questions
The DistroKid FAQ is a knowledge base of frequently asked questions about the DistroKid service and music distribution that can be visited at distrokid.zendesk.com/hc/en-us.
At the time of writing this, the DistroKid FAQ is broken down into these sections:
The Basics
Uploading Music
Store Specific
Account Admin
Getting Paid
The FAQ articles vary between topics that are very DistroKid specific to topics that are more educational on specific stores like Spotify and more generally about the topic of music distribution.
Although it can be annoying that DistroKid seems to try to push you to the FAQ when you are trying to contact them, their FAQ is actually pretty useful and can be a way to find the answers to your questions much faster than emailing them.
However, there are some things that the FAQ does not answer in-depth. Some things, like DistroKid wait times, are pretty well covered, but there are some things that are glossed over.
Luckily, I researched and wrote about these topics for you. 🙂
Oddly enough, DistroKid pricing and plans could be expanded upon quite a bit, so I wrote about this.
DistroKid Customer Support – How Good Is It?
In my experience, I've found the DistroKid customer support to be quite good. They tend to reply to my tickets quickly and professionally.
My interactions with the customer support agents have been pretty pleasant and I get the impression that they are knowledgeable and actually care.
Also, if you are a Reddit user, it is worth noting that the founder of DistroKid actually chimes in from time to time:
DistroKid also actively use Twitter to reply to inquiries in addition to having an FAQ, a form of email support, and a presence on Reddit.
Obviously, your mileage may vary when trying to get support from any company, but my experience has been good and it is clear that DistroKid takes support seriously.
BTW – For a more in-depth review of DistroKid beyond just a review of their customer service, you can check out my big fat DistroKid review. 🙂
DistroKid Alternatives
If you find yourself unhappy with DistroKid's customer support, you may want to look into some different music distributor options.
Popular alternatives to a music distribution service like DistroKid include TuneCore, CdBaby, Ditto, and Amuse.
If you would like to see how DistroKid compares to these services, more closely then check out this articles:
Some of my favorite music marketing tools
Thank you for reading this article, my friend, and I hope you found it helpful as you build your own successful career in music. 🙂
Here is a list of my favorite and most recommended tools and resources that I've personally used to get my music streamed over 4,000,000 times on Spotify as an artist.
Any of the paid services or tools listed here are most likely affiliate links, so if you do decide to use any of them, I'll earn a small commission.
But in all honesty, these are the exact tools that I personally use, love, and recommend to anyone – including my own friends and family.
Music Distribution
To get your music on Spotify on all the other streaming services, I use DistroKid because you get unlimited song uploads for a low annual price.
If you want to learn more about DistroKid and music distribution, check out the in-depth DistroKid review that I've put together.
Or, if you want to get started with DistroKid right now, you can save on your first year with the DistroKid discount.
Facebook Ads For Spotify Success
Although Facebook Ads can be a real pain to get working properly, there is no denying that they are incredible for growing Spotify streams and getting your music in front of real fans.
This is why I've put together a completely free course that you can check out called Facebook Ads For Musicians' Spotify Streams. 🙂
Music Publishing Royalties Collection
For collecting all of the publishing, mechanical, and live performance royalties owed to me whenever my music gets streamed or played, my go-to is Songtrust.
Songtrust is a publishing administration company which means that in addition to collecting all of those royalties for me, they do it on a global level.
To learn if Songtrust is right for you, I'd recommend checking out this article on Songtrust vs BMI.
And if you want to get started with Songtrust right now, I'd recommend learning about the Songtrust discount code so that you can get the best price. 🙂
Website & Smart Links
I'm personally not a big fan of the link-in-bio and smart links for music pages like ToneDen and Hyppeddit.
Instead, I prefer having a full-blown WordPress website that allows me to have a full website in addition to unlimited music links.
For getting started with this, I really like Bluehost because it is the cheapest and a theme called Thrive Themes because it is the most flexible and easiest to use.
I've actually created a free Smart Links Course that you can take to learn how to get set up and start getting more streams with custom smart links (I've even included the templates I am using!).
Want more tools and resources for your music career?
If you'd like to see even more of my favorite marketing tools and resources for musicians and music artists, I've created an even larger list on this page: Best Marketing Tools & Resources For Musicians (& Music Artists).
P.S. There are even some free tools and resources included on that page as well! 🙂