When trying to get your music uploaded to as many places as possible, you will want to know if DistroKid can upload to Bandcamp.
DistroKid does not distribute music to Bandcamp. If you would like to get your music on Bandcamp you need to create a Bandcamp account and upload your music manually.
It is also worth mentioning that you cannot use Bandcamp to get your music on Spotify, Apple Music, etc. On their website, Bandcamp actually recommends DistroKid for your digital distribution needs.
With that said, is it worth having your music on both Spotify and Bandcamp, and does DistroKid have an alternative for giving away your music for free (like Bandcamp does)?
Read on to find out more, my friend. 🙂
P.S. If you don't need any more convincing to sign up with DistroKid, make sure you learn about the DistroKid discount before signing up.
Bandcamp Distribution Explained
Bandcamp is not a digital distribution company and only allows you to sell your music on the Bandcamp website.
On the other hand, DistroKid is a digital distribution company that allows you to get your music on Spotify, Apple Music, and almost all the other streaming services and stores (other than Bandcamp of course).
So, to get your music on Bandcamp, you simply need to create a free Bandcamp account and upload your music directly with them.
What's interesting about Bandcamp and DistroKid is, although they are not partners, they seem to have a bromance of sorts…
DistroKid vs Bandcamp
DistroKid and Bandcamp are 2 different music services, and it makes sense to upload your music with both of them.
In fact, the 2 companies agree….
In an article in the Bandcamp Help Center on the topic "Do you distribute my music?", they actually link out to DistroKid:
And DistroKid returns the favor as well!
In an article in the DistroKid FAQ on the topic "Can I Give Away My Music for Free?", they link out to Bandcamp: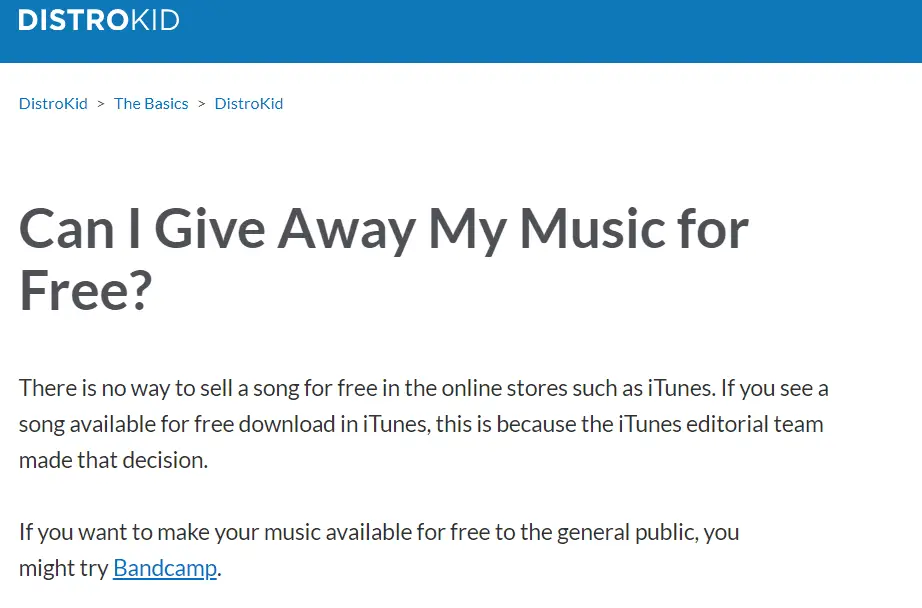 Also, in a Reddit post titled "Uploading on both Distrokid and Bandcamp?", the founder chimes in on the topic: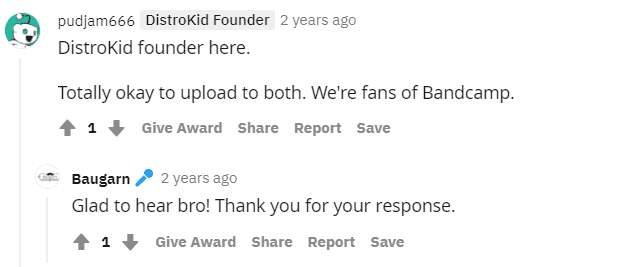 In addition to this, most artists agree on that Reddit post that there is no harm in uploading using both and that you should do the same. 🙂
BTW – that is one cool thing about contacting DistroKid for support, the founder is sometimes active on Reddit.
Why You Should Upload Your Music Using DistroKid
The main reasons you should upload your music using DistroKid are the fact that you get:
Unlimited song and album uploads

Uploads to over 100 stores (including Spotify, Apple Music & iTunes)

Keep 100% of your earnings (most importantly, Spotify royalties)
Although I mentioned over 100 stores, the main one you will want to focus on is Spotify.
This is because Spotify has a robust discovery platform with its algorithmic and editorial playlists that can help push your music out to hundreds of thousands of listeners.
In fact, by using DistroKid to upload my music, I was able to get on over 7 Spotify editorial playlists that have grabbed me over 300,000 streams on that 1 song.
If you'd like to learn more about uploading your music with DistroKid, start by checking out my article: DistroKid Pricing Explained: Plans, Discounts and 'Hidden Fees'. 🙂
Why You Should Upload Your Music to Bandcamp
The main reasons you should upload your music to Bandcamp are the fact that you get to:
Sell your music directly to fans

Can give away your music (completely for free or in exchange for their email)

It's completely free to upload music to Bandcamp
In addition to this, Bandcamp has a discovery platform in the way that it uses tags to categorize music.
Bandcamp users can follow artists and search through tags to discover new music and even pay for it if they feel so inclined. 🙂
Although it may take a bit of extra time to set up your release using both DistroKid and Bandcamp, it definitely makes sense to do so.
This way your music can be on all the streaming services that every music listener uses these days AND you can sell your music to them directly after they've discovered you.
How To Upload Your Music With Both DistroKid And Bandcamp
To upload your music to both DistroKid and Bandcamp, simply follow the steps I've outlined here.
But first, you will need:
Your mastered music in a WAV, AIF, or FLAC format (DistroKid also takes MP3s but Bandcamp does not)

Your artwork in a 3000px by 3000px size that is under 10 MBs in size (DistroKid recommends that size, while Bandcamp has a max upload of 10 MBs – two birds one stone)

A free Bandcamp account

A DistroKid account
How to upload your music to DistroKid
With your music and artwork in hand, you are all set to begin the music distribution process.
First, let's get your music uploaded using DistroKid:
Step 1: Log in to DistroKid at distrokid.com/dashboard
Step 2: Click on 'UPLOAD'

Step 3: Enter your artist name (if uploading for the first time)
Step 4: Set the release date 2 – 3 weeks in advance so that you can make sure it gets distributed to all stores and so you have time to pitch the song to the Spotify editors in the Spotify For Artists dashboard.
Step 5: Upload your artwork and select a primary and secondary genre.
Step 6: Fill out your track details and upload the audio file.
Step 7: Ignore the optional 'Extras', check off the checkboxes and smash that 'DONE' button. 🙂
Here are a few tips to consider when uploading your music with DistroKid:
Upload singles instead of albums so you have more chances to pitch to the Spotify editors to get on Spotify editorial playlists

Ignore the 'Extras' – they are not necessary at all

Make sure you are on the 'Plus' plan so that you can set a release date for your song (more on this in my article: DistroKid Musician vs Musicians Plus)
Also – if it is your first time uploading music to Spotify, learn how DistroKid can make a Spotify account for you so that you get the blue verified checkmark, access to Spotify For Artists, and the ability to pitch to the Spotify editors directly.
With that out of the way, let's head over to Bandcamp to get your song ready over there. 🙂
How to upload your music to Bandcamp
Here is how to upload your music to Bandcamp:
Step 1: Log in to Bandcamp at bandcamp.com/login
Step 2: Click on the '+add' tab and then select 'track'

Step 3: Upload the audio file, select the track's price, and then type in the Song's name and any optional details like lyrics.
Step 4: Upload your artwork and add in some tags so that people can discover your music
Step 5: Set the same release date as you did in DistroKid, scroll up and click 'Publish'

Finally, here are some tips for when uploading your music to Bandcamp:
Space out your releases so that each release can spend time in the "New Arrivals" section in Bandcamp

Take some time to search the tags (and actually listen to some of the music) so that you can find tags that are most relevant to you

If you are going to set your music to be free, why not click the checkbox so that users can pay-what-they-can if they'd like?

You should select the box so that users must give their email if they'd like the song for free, this way you can contact them later about future songs, new merch, and other news
And there you have it!
You are all set to kill it with both Bandcamp and DistroKid. Your very first steps on the road to music and Spotify success.
Hopefully, this article helped you figure out if DistroKid can distribute to Bandcamp (and then some).
Good luck on your next release, my friend! 🙂