It's taken a long time. A very, very long time. But.. it's been extremely worth it.
17 years ago I got my very first guitar, a sick Squier Stratocaster in sunburst (that I'd later bust up quite a bit in my Nirvana phase) that started my life as a musician.
This lead to countless bands, live shows to usually 5 people (aka our parents and girlfriends), recording sessions, G.A.S. attacks, MySpace pages, and failed projects.
It took 17 whole years but I finally got what I always wanted since I was a 13-year-old kid…
A simple sliver of proof that I wasn't crazy to be so obsessed with music and that I could actually make my passion for music my life.
Fast forward to today:
Over 3.5 million streams
15+ official Spotify editorial placements
Support from big-time artists like Martin Garrix and Foals
Real, living, and breathing human beings reaching out saying that they dig my music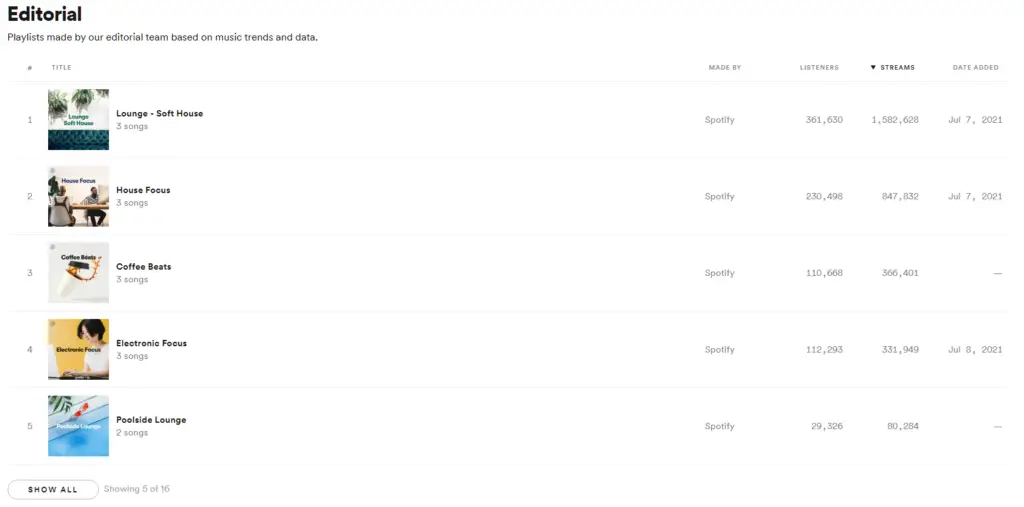 I've learned so much along the way, made too many mistakes, and probably spent too much money and too much time.
…And if you're reading this right now, I'm happy to have the chance to be able to share all of those years of knowledge with you so you don't need to go through the same struggles that I did.
How I Got 1 Million Streams (2.5 Times)
This is exactly what I did (in the exact order I did it in) to get 1 million streams 2.5 times:
Learned how the Spotify algorithm works so that I can make the algorithm work for me by giving me free streams through algorithmic playlists

Released music monthly (to this day I have never missing a month since I started) to increase my chances of growing via algorthmic playlists and to get in front of the Spotify editors more frequently which increased my chances of getting on Editorial playlists

Figuring out how to make the most of an editorial playlist placement once I actually landed one (which then lead to even more editorial placements – I've landed about 20 so far)

Run low-budget Facebook ads from FB&IG to a custom "smart link" page to my Spotify profile

Hacking the Spotify algorithm by sending it an influx of highly-targeted listeners to Spotify who listen to similar artists, songs, genres and playlists as my music
It wasn't easy.
It took (and still takes) plenty of dedication but again.. it's been extremely worth it.
And whether or not you take a particular course or just check out a bunch of articles and videos on your own, I do truly believe that anyone can start seeing results with music one way or another.
In my experience, all it really takes is hard work, dedication, and lots of experimenting.
How Anyone Can Get 1 Million Streams Too
After putting in years of time and effort into my own music, I figured out a specific strategy that turned the Spotify algorithm in my favor to got me over 3.5 million streams on Spotify and landed 9 of my songs on 16 different official Editorial playlists.
I want to share the strategies, techniques, and exact templates that I used with you in a step-by-step, proven, no-nonsense online course that walks you through my entire process for going from zero to 1,000,000 streams.
I achieved Spotify success even though I started my journey with:
No fanbase (I didn't even tell my friends and family) 
No connections
On a shoestring budget (I'm cheap af)
While working a full-time job
…and you can too.
"Is it actually possible for me to hit 1,000,000 Spotify streams as well?
It takes quite a bit of determination and focus, but honestly, if I can do it then anyone can do it.
Here are a few questions that I get quite frequently about finding success on Spotify.
What if I don't have an fanbase or audience?
Having some kind of fanbase or audience can definitely be helpful and make things much easier, but this course is designed to show you how you can start seeing success on Spotify even if you don't have an audience of your own yet.
I got to where I am today without an audience. In fact, I didn't even tell friends or family that I started my musical project.
Do I need any experience or connections?
Not at all!
I assume you know nothing about digital marketing, advertising, or even Spotify in this course.
I got to where I am with no connections (as an introvert I still barely have any tbh) and I assume the same is the case for you (the no connections part at least).
What if I don't have enough (or "good enough") music to release?
Most music marketers will say something along the lines of "obviously the first step is to make sure you have great music" and leave it at that.
In this course, I actually provide dedicated lessons and exercises to make your music "good enough" and to make sure you have plenty of music to release.
What if I don't have any new music to release?
Although you can use music that's already been released, promoting music within its first 28 days of release is the best way to get on Spotify's algorithmic playlists to get free streams and fans sent to your music.
This is why I actually provide dedicated lessons and exercises to make sure you have plenty of music to release.
Does this strategy really work… how do I even know I can trust you?
I'm not a marketing guru or business expert – I'm a musician that knows a lot about marketing.
I've spent the better part of my whole life dedicated to music and trying to make something happen in music.
The strategies I teach in this course are the very same that I've used myself to get over 3,500,000 streams on Spotify.
After helping a handful of friends across different genres in my music scene achieve amazing results, I decided to put everything I know into 1 single result-focused course to help as many dedicated music creators as possible do the same.
The proof is in the pudding as they say.
How To Get 1 Million Streams On Spotify
To get 1,000,000 streams on Spotify, all you need to do is:
Make and record music
Upload your music to Spotify
Release your first single
Get 395,257 people to your Spotify profile
Release new music regularly to keep listeners interested and to build momentum
Why exactly do I need to get 395,257 people over to my Spotify profile?
Read my full article on how to get 1 million streams on Spotify to learn more. 🙂
Why Consistency Is The Key To Success On Spotify
To truly understand how I got on 7 different Spotify editorial playlists, it is important to note my track record and what lead up to this momentous occasion:
From January 2020 to April 2020, I released at least one song per month and got very little success with almost every song still not surpassing 1,000 streams to this day.

In May 2020, I released a song called 'Orbiting' and ran Facebook/Instagram ads for the first time to help get a song past the 1,000 stream mark for the first time.

In June 2020, I released a song called 'Lilo' which triggered the algorithm for the first time, landing me on the Release Radar playlist and helping me hit over 5,000+ streams.

In July 2020, I released a song called 'Sax Appeal' which only hit the Release Radar playlist at the tail end of its first month (which ultimately flopped and only got about 2,000+ streams).

In August 2020, I released a song called 'Kuebiko' which hit the Release Radar playlist a little earlier in its first month but was still kind of a flop hitting 3,000+ streams.

In September 2020, I did a remix of my friend Malory's song 'Killer Cut Offs' that got on Spotify's 'Fresh Finds: Basement' playlist which helped us hit 10,000+ streams.

In October 2020, I released a weird take on Canada's national anthem that super flopped and still hasn't hit 1,000 streams as of the writing of this article.
Then I released 'Lofi Nights' and everything blew up.
As you can see, not only did I release music every single month, but I also continued to try to trip the Spotify algorithm. On top of this, I failed several times with a bunch of flops.
Heck.. The song I released right before my big break was relatively the biggest flop of my Spotify career.
It's my educated opinion that this consistency, combined with strategies like trying to give the Spotify algorithm what it wants and doing a collaboration with an artist at a higher place than me ultimately gave the Spotify editors no other choice than to take a look at what I am doing more seriously.
How To Upload To Spotify As An Artist (& Get Paid)?
Want to upgrade from just making music to actually get your own music on Spotify and becoming an official Spotify artist?
To upload to Spotify as an artist, you need to sign up with one of Spotify's preferred music distributors and submit your music, artwork, and artist information through that distributor.
Thankfully it's easy for anyone to upload music to Spotify because a company called DistroKid came along and started offering unlimited song uploads for a small annual fee without taking a percentage of any of your earnings away.
Before DistroKid, it was too expensive and complicated (..you had to pay PER song EVERY year).
To learn more about DistroKid, check out my big fat DistroKid review for everything you will ever need to know about them. There is even a handy How To Choose A Distributor Guide and some info on the nice DistroKid discount.
If you are wondering want to know more details about how to do this yourself, how exactly you can claim your artist profile, and actually make some money by uploading music to Spotify, check out my article called How To Upload To Spotify As An Artist (& Get Paid)
How To Get More Streams With Custom Smart Links
The best alternative to the endless amount of smart links, landing pages, and link-in-bio style pages out there is to simply build your own custom smart links by using WordPress.
I do this myself with my very own WordPress-based website (aka the one you are on right now) and find it to be way more flexible and effective, particularly if you want to do the Spotify algorithm hack by running Facebook and Instagram ads to your smart link pages.
The reasons I'd recommend doing this over using any smart link creator is because:
Without paying for these services, you can create smart links that are exactly in the style of Hypeddit, Linktree, Toneden, HyperFollow, etc.

Get more streams to your music by using my highly tested and conversion-optimized smart link template

Look more professional and credible by having a custom domain and no other company's branding on them

Get your brand and identity across by perfectly customizing your smart links to look exactly how you want them to
On top of this, you'd actually have a legit and professional full-blown website and not just some smart links for promoting your music.
For a free step-by-step course on how to get started with this, check out my free course on smart links for music.
Some of my favorite music marketing tools
Thank you for reading this article, my friend, and I hope you found it helpful as you build your own successful career in music. 🙂
Here is a list of my favorite and most recommended tools and resources that I've personally used to get my music streamed over 4,000,000 times on Spotify as an artist.
Any of the paid services or tools listed here are most likely affiliate links, so if you do decide to use any of them, I'll earn a small commission.
But in all honesty, these are the exact tools that I personally use, love, and recommend to anyone – including my own friends and family.
Music Distribution
To get your music on Spotify on all the other streaming services, I use DistroKid because you get unlimited song uploads for a low annual price.
If you want to learn more about DistroKid and music distribution, check out the in-depth DistroKid review that I've put together.
Or, if you want to get started with DistroKid right now, you can save on your first year with the DistroKid discount.
Facebook Ads For Spotify Success
Although Facebook Ads can be a real pain to get working properly, there is no denying that they are incredible for growing Spotify streams and getting your music in front of real fans.
This is why I've put together a completely free course that you can check out called Facebook Ads For Musicians' Spotify Streams. 🙂
Music Publishing Royalties Collection
For collecting all of the publishing, mechanical, and live performance royalties owed to me whenever my music gets streamed or played, my go-to is Songtrust.
Songtrust is a publishing administration company which means that in addition to collecting all of those royalties for me, they do it on a global level.
To learn if Songtrust is right for you, I'd recommend checking out this article on Songtrust vs BMI.
And if you want to get started with Songtrust right now, I'd recommend learning about the Songtrust discount code so that you can get the best price. 🙂
Website & Smart Links
I'm personally not a big fan of the link-in-bio and smart links for music pages like ToneDen and Hyppeddit.
Instead, I prefer having a full-blown WordPress website that allows me to have a full website in addition to unlimited music links.
For getting started with this, I really like Bluehost because it is the cheapest and a theme called Thrive Themes because it is the most flexible and easiest to use.
I've actually created a free Smart Links Course that you can take to learn how to get set up and start getting more streams with custom smart links (I've even included the templates I am using!).
Want more tools and resources for your music career?
If you'd like to see even more of my favorite marketing tools and resources for musicians and music artists, I've created an even larger list on this page: Best Marketing Tools & Resources For Musicians (& Music Artists).
P.S. There are even some free tools and resources included on that page as well! 🙂