Do you want to get more streams and fans by combining smart link webpages and digital advertising? Feature FM may have exactly what you need, so I've researched their offerings and wrote about my findings right here for you.
Feature FM is a music promotion tool that acts as a middleman between your fans and your music by offering advertising services and creating smart link landing pages to promote music on Spotify and other music streaming services.
Although their free smart links can be useful if you just need a webpage to add to your Instagram link in bio, Feature FM has some serious limitations, is not worth the price they charge, and any serious artist will want to consider taking control of their career by doing it themselves for better and cheaper results.
If you want to learn more about Feature FM, their pricing, and what other alternatives are out there, simply keep on reading, my friend. 🙂
Feature FM For Spotify
Feature FM can be used to grow Spotify streams and listeners by using their smart link landing pages and advertising services. However, the cost to use their services is quite high and the free features are too limited to be useful.
Even when paying for their higher-tier plans, their smart links have very limited customization options and most of the advertising can easily be done yourself for free using native ads managers such as the Facebook ads manager.
When it comes to Feature FM's smart links, the best alternative is to simply build your own custom smart links with WordPress. It's cheaper, you can make your smart links look exactly like Feature FMs (or ToneDen, HyperFollow, etc), you get a full website out of it, and did I mention it is cheaper?
With that said, let's take a look at what Feature FM smart link pages look like, dive into their pricing, and ultimately find out if Feature FM is worth it or not.
Feature FM Examples
Here are some examples of what a Feature FM smart link can look like: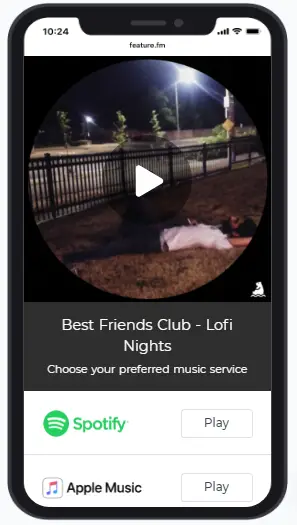 ..but how much does it cost?
Feature FM Pricing
Feature FM's pricing ranges from $19 USD per month for the Artist plan and $39 USD per month for the Pro Artist plan. Users can save 10% when paying annually instead of monthly.
Feature FM also has a 'Free' plan available that gives access to basic FeatureFM-branded smart links with very limited functionality.
…but is it really free?
I covered something similar in my previous article, Is Linktree Free? Hidden Costs Exposed!, but Feature FM uses a similar marketing tactic called the "Freemium" model.
Essentially, they give away "free" but limited services/features/products with the intent of hooking you on to their platform so that they can continue to entice you with paid monthly features.
Let's take a look into some super basic features that Feature FM puts behind and paywall and see if it is worth it.
Feature FM Facebook Pixel
The ability to use a Facebook pixel with Feature FM is not included in the free Feature FM plan. To use a Facebook pixel with your smart links, you must pay $204 USD per year or $19 per month to be on their Artist plan.
Feature FM Custom Domain
The ability to have a custom domain using Feature FM is only possible if you are on the Artist Pro plan at $19 USD per month or higher. If you are on a monthly plan it will cost you an additional $10 per month to have this feature (but is included if you are on an annual plan).
To set up a custom domain with Feature FM, you would need to follow these steps:
Purchase a custom domain yourself
Point your custom domains to Feature FM's nameservers
Manually submit a custom domain request to Feature FM
Additionally, if you are on the free plan and want to upgrade an individual smart link to "Pro" for $50 per link, this does not allow for custom domains.
All in all, custom domains with Feature FM is a complicated and ruthless rip-off and I simply wouldn't recommend wasting your money or your time.
Is Feature FM Worth It?
Feature FM is not worth it because the free version is too limited and basic to be useful and because the ability to effectively run Facebook and Instagram ads and other useful music promotion strategies requires a paid subscription.
Ultimately, what you get for the price of any Feature FM subscription is too high compared to the features that you get.
Their smart links have very limited customization options and most of the advertising can easily be done yourself for free using native ads managers such as the Facebook ads manager.
Although Feature FM does have some interesting features, such as being able to pay to have your song listed as a Sponsored Song on music websites, the overall value they provide for some basic webpages and advertising is not worth the price they charge.
…but with said…
Is Feature FM Safe?
Feature FM is a safe and legit company that has been around since 2013. Their products and services are used by thousands of artists and their team has some history in the music industry by having created a playlisting service before founding Feature FM.
Best Feature FM SmartLink Alternative
The best alternative to Feature FM and their smart links is to simply build your own custom smart links by using a WordPress or SquareSpace website.
I do this myself with my very own WordPress-based website (aka the one you are on right now) and find it to be way more flexible and effective, particularly if you want to do the Spotify algorithm hack by running Facebook and Instagram ads to your smart link pages.
The reasons I'd recommend doing this over using the Feature FM links are because:
Without paying for these services, you can create smart links that are exactly in the style of Feature FM, Hypeddit, Linktree, Toneden, HyperFollow, etc.

Get more streams to your music by using my highly tested and conversion-optimized smart link template

Look more professional and credible by having a custom domain and no other company's branding on them

Get your brand and identity across by perfectly customizing your smart links to look exactly how you want them to
For a free step-by-step course on how to get started with this, check out my free course on smart links for music.
On top of this, you'd actually have a legit and professional full-blown website and not just some smart links for promoting your music.
The things you can do with a website are endless (ie: blogs to rank on Google like this post you are reading, create a Patreon-style membership, private webpages for your fans to create unique experiences, etc)
But, to start, how can you go about creating your own smart links for promoting your music in the style of Feature FM?
How To Make A Feature FM Style Website Yourself
To create your own smart links in the style of Feature FM, all you need is either a simple WordPress-based website or a Squarespace-based website. If you already have a website solution in place, you may be able to create your own smart links at no extra cost to you.
To create your own smart links for marketing your music, the truth is that you can really use any website creator on the market today. But, it is best if you have the ability to create pages that allow you to remove the header and footer menus like you can with WordPress or Squarespace.
Although both options are great, I use and recommend WordPress because:
There are no (or very low) monthly fees

More customization and flexibility because of the endless amount of WordPress plugins available

The option to use pre-made templates already in the style of Linktree, Toneden, Hypeddit, etc.
To get started with your very own custom WordPress website, all you need to do is install WordPress and then create some "smart link"-style landing pages with the free built-in WordPress page editor.
To install WordPress as quickly and easily as possible, I'd recommend using a web hosting service like Bluehost that gives you web hosting, a website domain, and then instantly sets up WordPress on it for you, all in just a few simple clicks.
Then, when you want to take things to the next level, you can install a premium theme that allows you to perfectly reproduce the looks of other smart link pages and even download pre-made templates like Thrive Architect.
For a free step-by-step course on how to get started with this, check out my free course on smart links for music.
If you are just starting out, I'd recommend starting off with a simple WordPress-based website to keep your costs low and then upgrade to a premium theme when you feel ready to make the leap.
With that said, I'm personally using Bluehost to take care of all of my website needs and have also installed Thrive Architect to not only build smart links in the style of DistroKid HyperFollow but also to create the entire website that you are on right now. 🙂
Feature FM Alternatives
Alternatives to Feature FM include LinkTree, ToneDen, and DistroKid. However, the best Feature FM alternative is to create your own fully customizable WordPress website and run the digital ads yourself because it is cheaper and more flexible when marketing your music.
If you do not want to go the DIY approach, and instead want to look up some other smart link competitors, here is a list of companies like Feature FM that are worth checking out:
Feature FM vs ToneDen
Feature FM and ToneDen are similar because they create website and advertising automation tools and services for artists, musicians, and producers. They both make it a bit more convenient to promote your music at the expense of high monthly fees.
The main difference between Feature FM and ToneDen is in the design of their automated landing pages (aka smart links) and the advertising platforms they focus on (ToneDen on Facebook and Feature FM on display ads).
Ultimately, both are not worth it when compared to the best alternative which is to do it for yourself with your own website and advertising accounts, which is both cheaper and more flexible.
Looking For A Better Music Distributor?
Although my top suggestion for a music distributor is definitely DistroKid, I've gone ahead and compared DK to other popular services in case you are in the market for a new digital distributor or are simply just curious.
Popular alternatives to a music distribution service like DistroKid include TuneCore, CdBaby, Ditto, and Amuse.
If you would like to see how DistroKid compares to these services, more closely check out this articles:
Or, if you would like a more detailed look into what DistroKid has to offer, you can check out my big fat DistroKid review. 🙂
P.S. If you also want to learn about music publishing and make sure that you are not leaving any money on the table with your music distribution setup, I'd recommend checking out these 2 articles:
Some of my favorite music marketing tools
Thank you for reading this article, my friend, and I hope you found it helpful as you build your own successful career in music. 🙂
Here is a list of my favorite and most recommended tools and resources that I've personally used to get my music streamed over 4,000,000 times on Spotify as an artist.
Any of the paid services or tools listed here are most likely affiliate links, so if you do decide to use any of them, I'll earn a small commission.
But in all honesty, these are the exact tools that I personally use, love, and recommend to anyone – including my own friends and family.
Music Distribution
To get your music on Spotify on all the other streaming services, I use DistroKid because you get unlimited song uploads for a low annual price.
If you want to learn more about DistroKid and music distribution, check out the in-depth DistroKid review that I've put together.
Or, if you want to get started with DistroKid right now, you can save on your first year with the DistroKid discount.
Facebook Ads For Spotify Success
Although Facebook Ads can be a real pain to get working properly, there is no denying that they are incredible for growing Spotify streams and getting your music in front of real fans.
This is why I've put together a completely free course that you can check out called Facebook Ads For Musicians' Spotify Streams. 🙂
Music Publishing Royalties Collection
For collecting all of the publishing, mechanical, and live performance royalties owed to me whenever my music gets streamed or played, my go-to is Songtrust.
Songtrust is a publishing administration company which means that in addition to collecting all of those royalties for me, they do it on a global level.
To learn if Songtrust is right for you, I'd recommend checking out this article on Songtrust vs BMI.
And if you want to get started with Songtrust right now, I'd recommend learning about the Songtrust discount code so that you can get the best price. 🙂
Website & Smart Links
I'm personally not a big fan of the link-in-bio and smart links for music pages like ToneDen and Hyppeddit.
Instead, I prefer having a full-blown WordPress website that allows me to have a full website in addition to unlimited music links.
For getting started with this, I really like Bluehost because it is the cheapest and a theme called Thrive Themes because it is the most flexible and easiest to use.
I've actually created a free Smart Links Course that you can take to learn how to get set up and start getting more streams with custom smart links (I've even included the templates I am using!).
Want more tools and resources for your music career?
If you'd like to see even more of my favorite marketing tools and resources for musicians and music artists, I've created an even larger list on this page: Best Marketing Tools & Resources For Musicians (& Music Artists).
P.S. There are even some free tools and resources included on that page as well! 🙂