Music artists and musicians of all shapes and sizes are constantly bombarded with new tactics, tools, and things that take away their hard-earned cash in exchange for the hope of getting the fans and listeners of their dreams.
With the rise of Spotify and social media, a very specific marketing tool that goes by many names has become the latest trend in music marketing.
These are of course: smart links, music links, smart URLs, etc, etc, etc.
Although these are really just ordinary web pages with buttons, limitations with how companies like Spotify and Facebook share data with music artists have made "music links" pretty useful when running Spotify conversion ads to increase stream counts.
In this case study, I am going to show you the music link setup that I used to get over 1.8 million Spotify streams as well as some other variations that I used that got me less as well as more streams than that.
My goal with this case study is to show you what is and isn't important when it comes to music links so that you can set up and optimize the music links that you use in the best way possible.
If you're ready to get nerdy and up your music marketing game in the process, simply keep on reading, my friend. 🙂
The Music Link Setup I Used To Get 1,804,021 Spotify Streams
On November 8th, 2020, I released a song called Lofi Nights, ran Spotify conversion ads to a music link for 10 days, and caught the attention of the Spotify editors which landed the song on about 8 Spotify editorial playlists.
…the result?
1,804,021 streams on Spotify to date:
Let's take a closer look at the music links that I used as well as the overall strategies involved that lead to this pretty awesome result.
The First Version Of The Music Link:
For the first 10 days of this song's release, I sent traffic from Facebook Ads to a music link that I built myself using WordPress and a drag-and-drop editor plugin (which I can show you how to use in this free smart links course).
I'll get into the specifics of how I ran the Facebook Ads a bit later in this case study, but I spent about $101 CAD in the first 10 days and the "listen on Spotify" button directed listeners to my Spotify profile.
Before breaking down the elements of this page, here is exactly what it looked like:
It's a pretty simple design that is not at all flashy. There are some things that work about and some that could be improved.
Here is what I believe made this music link page a success:
My little bear logo is consistent across my ads and web presence, giving some trust to any listeners who land here
The album art is displayed the same as it is on Spotify and in the ad, letting the listener know they are in the right place
The song and artist name are clearly displayed just as they are on Spotify and in the ad, once again letting the listener know they are in the right place
The "listen on Spotify" button is very high contrast compared to the rest of the page, making it clear that the listener should click that big shiny button
With that said, I think there is still some room for improvement:
The Apple Music button is quite large and distracting
The free sample pack button is suble but could be distracting
The social media buttons are pretty subtle but could still be distracting
A few days after I landed the editorial placements, I increased my ad budget and modified my music link strategy to account for the larger music royalty payout I was going to be receiving.
This leads us to V2…
The 2nd Version Of The Music Link:
The main changes with the updated version of this music link are that I removed the distracting Apple Music button and changed the Spotify button so that it pointed to a Spotify playlist that I created.
Here is what it looks like:
The reason I did this is as follows:
I release new songs monthly, so I wanted to be able to run the new songs direct to profile and leave this one going to the playlist for as long as it was making that sweet royalty money
I wanted Spotify to see that this song was getting streams from multiple different sources and not just relying on their editorial playlists
I wanted to build up this playlist as an asset that I could use to increase the stream counts of my future releases
Next, let's take a closer look at the Facebook Ad spend for the first 10 days and how much I spent promoting this song on this playlist afterward.
The Facebook Ad Spend:
Now, this is where things get interesting…
To date, I've spent about $1,700 on Facebook Ads with the vast majority of that being on ads that send listeners to my Spotify playlist:
Of that $1,700 CAD I can see that this playlist has earned this song just over 8,000 Spotify streams:
That's roughly $0.20 CAD per stream.
…yikes.
So do music links even work then? …do ads even work then?
The answer to these burning questions is: yes, but not directly.
Chasing a traditional ROI (return on investment) directly from music links and Facebook ads is… to put it plainly… stupid.
The secret to this strategy is to use these tools to build up your data with Spotify algorithm and in your advertising account, so that you can start triggering Spotify algorithm playlists like Release Radar and Discover Weekly.
The more you release music, the more chances you have of triggering the algorithm, the increased data make your ads perform better, and ideally, this momentum over time catches the attention of the Spotify editors.
I released almost 20 songs on a monthly basis before making this all happen and I'm happy to show you the private data I collected on the first 28 days of Lofi Night's release to prove this point:
As you can see, the truth is that this song was really only getting about 15 – 30 streams in the 10 days before all of the Editorial placements came in.
By sending listeners to my profile and using the stream count data in the Spotify For Artist dashboard, I was able to calculate that the ads were most likely only getting me about 5 – 15 streams per day.
The majority of this song's streams come from Spotify's editorial and algorithmic playlist and NOT from my music link or advertising efforts:
To get an even clearer picture of the true role that music links play in an artist's success…
Let's take a look at some of the music link setups that I used for some of my other releases. 🙂
The Music Link Setup That Got Me 17,552 Spotify Streams
On June 28th, 2020, I released a song called Lilo and ran Spotify conversion ads to a music link for the first 27 days of that song's release.
To date, this song has about 17,000 streams on Spotify:
It may not be a million streams, but it is a number that I am definitely happy with.
The music link that I built was much more complex for this one and has a fancy background, multiple fancy-looking links, and a form for collecting fan emails:
A big problem I noticed with this style of music link was that the page would load quite slowly which was definitely making me lose out on potential streams.
In addition to this, the buttons don't really look all that clickable (which can be confusing to the listener) and there are a lot of options for a listener to click on all sorts of different things (which can also be confusing).
Next, before looking at a music link that actually did better than the first song I showed you, let's take a look at another example that did not perform as well.
The Music Link Setup That Got Me 10,550 Spotify Streams
On August 30th, 2020, I released a song called Kuebiko and ran Spotify conversion ads to a music link for the first 18 days of that song's release.
To date, this song has about 10,000 streams on Spotify:
Again not a million streams, even less than the song I showed you earlier, but still I am pretty proud of this result.
However, when taking a look at the music link that I created for this song, the issue becomes pretty apparent:
Once again this music link has a fancy background that hurt the website's load times, however, the bigger issue is the distracting elements.
There are 2 big and bright buttons on this music link, making it really hard for the listener to know which one they should choose.
This is ultimately a phenomenon known as "paralysis by analysis" which you can learn more about in my guide on music landing pages.
For now, let's move on and take a look at the music link setup that I used to crack the 2 million stream mark:
The Music Link Setup I Used To Get 2,145,080 Spotify Streams
On January 7th, 2021, I released a song called Weighted and ran Spotify conversion ads to a music link for the first 18 days of that song's release.
To date, this song has over 2.1 million streams on Spotify: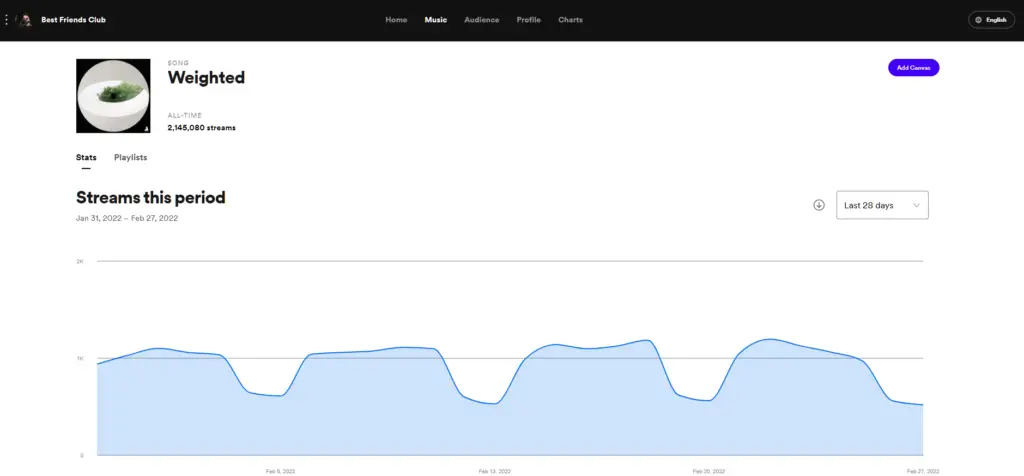 Being just a few months after the success I had reached with Lofi Nights, I applied the lessons that I learned with really simplifying my music link designs for this song's link:
It's super simple with almost no distractions and a very clear focus on the 1 action that I want potential listeners to take: press that dang Spotify button!!
In addition to this, I've found that not only does this simple design seem to perform better…
It is also a lot easier for me to duplicate and swap out the name and album art when it comes time to prepare for the upcoming release.
…but, again… is it really the music link design that helped me reach these results, or is there something else at play here?
Sure – I am using Facebook Ads to bring people to this music link page, but I've already shown you that the amount of streams that come directly from Facebook Ads and music link pages really is never that much.
The Truth About Smart Links For Music Marketing
The main thing that has been missing in this analysis of these music link pages are two-fold:
The actual music behind the music link
The momentum that I've built up from release to release
Do you think if I dropped Weighted with that music link and even the same Facebook Ads as a brand new artist that song would pass 2 million streams?
Maybe… but probably not.
I had released about 20 songs before that, quite a few of them triggered the Spotify algorithm to get me a boost from Release Radar playlists, and I had released another song in between Lofi Nights and Weighted that also landed on Editorial playlists.
I've continued to use this simple music link design to help even newer releases reach decent results like 30,000 streams, 35,000 streams, 70,000 streams, etc.
However, this music link design has also landed me results like this: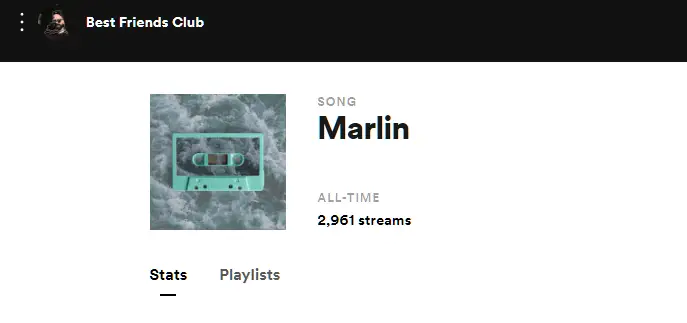 Marlin is a cool song, but it's a different genre than that of what I usually make, and clearly, my audience wasn't too crazy about it.
The momentum that you've built up as an artist matters and the music behind your music links matters even more.
Ultimately, music links and Facebook Ads are just tools that you can use to try to tip the scales in your favor and get your music in front of a few potential fans.
How positively (or negatively) they engage with that music determines how well your ads perform and whether or not you get a boost from the Spotify algorithm or editors.
This means that at the end of the day, the decision of whether or not your song is a hit or not and is destined to get billions of streams or not… is in the hands of the fans.
No fancy music link or perfectly optimized Facebook ad can change that.
Which is kind of beautiful when you think about it. 🙂
…So What Music Link Tool Should You Use?
There are an endless amount of music link tools and website builders out there, that can allow you to start building music links, smart links, link in bio pages… you name it.
The truth is that you are free to use any tool that meets the conversion-focused requirements I mentioned in this article (and that you can follow along with in this free cheat sheet).
With that said…
I recommend hosting your own WordPress website and using a premium drag-and-drop plugin because it can allow you to create unlimited links and set up your links properly without having to upgrade or connect to another service.
It also allows you to future proof your web presence later since you can add an online shop, membership program, or whatever the next trend in online music marketing is after music links.
I've also created a free course that teaches you how to get set up with this combo and even includes the music and "link in bio" templates that I am currently using.
If you already have a solution for a website or music links already just make sure your current solution meets these requirements first:
You can install advertising pixels like the Facebook Pixel
You have access to a domain (www.you.com) and its DNS so you can verify your website domain to Facebook
You can create unlimited web pages and music links
You can easily customize and modify your music links
The above course also shows you how you can optimize just about any music link tool if you already have one or want to use something else.