As an artist on Spotify, I have access to the "Spotify For Artists" dashboard which allows me to see what every Spotify Artist can see behind the scenes – here's what I learned about what artists can see about their listeners.
Artists on Spotify are able to see the number of people listening to their music but they can't single out any specific person that is listening to their music. Although listener information like gender, age, and location is available to Spotify artists, this is high-level data only and each listener's privacy is protected.
With that said, Spotify artists can also see what playlists are getting them the most streams and who created that playlist. This means that if you put an artist's music on a playlist and listen enough then your playlist and username may become visible to the artist.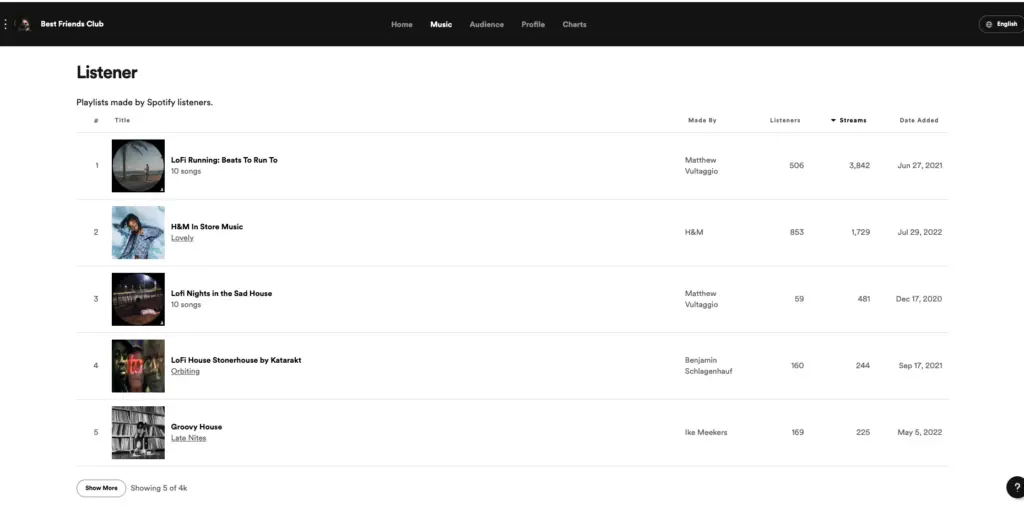 The 4 main tools that Spotify artists have to be able to see who is listening to their music include:
A "people listening now" counter on the Spotify For Artist's dashboard

Location data from the past 28 days based on their entire discography

Demographic data from the past 28 days based on their entire discography
Location data for individual songs and albums
What playlists are getting Spotify artists the most streams (including user playlists)
Before diving into these tools in more detail, here is a look at what this data looks like from my personal Spotify For Artist's dashboard so that you know what kind of listener data is available to Spotify artists.
Exactly What A Spotify Artist Can See Behind The Scenes
In this section, I will show you screenshots of my personal Spotify For Artist's dashboard so that you can see exactly what a Spotify artist can see about who is listening to their music.
1. The number of "people listening now"
Here is what the "people listening now" area of my Spotify For Artist's dashboard looks like:
This number changes in real-time but never gives away the person who is actually listening to a Spotify artist's music at any given time.
2. Location data from the past 28 days based on their entire discography
Here's a look at the location data I can see for my overall audience on Spotify from the past 28 days:
This data is only available for the last 28 days and gives the number of listeners from the top countries and cities for the Spotify artist.
3. Demographic data from the past 28 days based on their entire discography
Here's a look at the demographic data I can see for my overall audience on Spotify from the past 28 days:
Demographic data in Spotify For Artists is broken into gender and age for the last 27 days and shows percentages instead of specific numbers.
4. Location data for individual songs and albums
Here's a look at the location data I can see for 1 of my songs on Spotify for the year 2021:
As opposed to an artist's overall audience data, there are different time toggles when viewing the location data for an individual song or album which include the last 7 days, 28 days, and specific years.
5. What playlists are getting the most streams
Here's a look at the Spotify listener playlists that are getting me the most streams: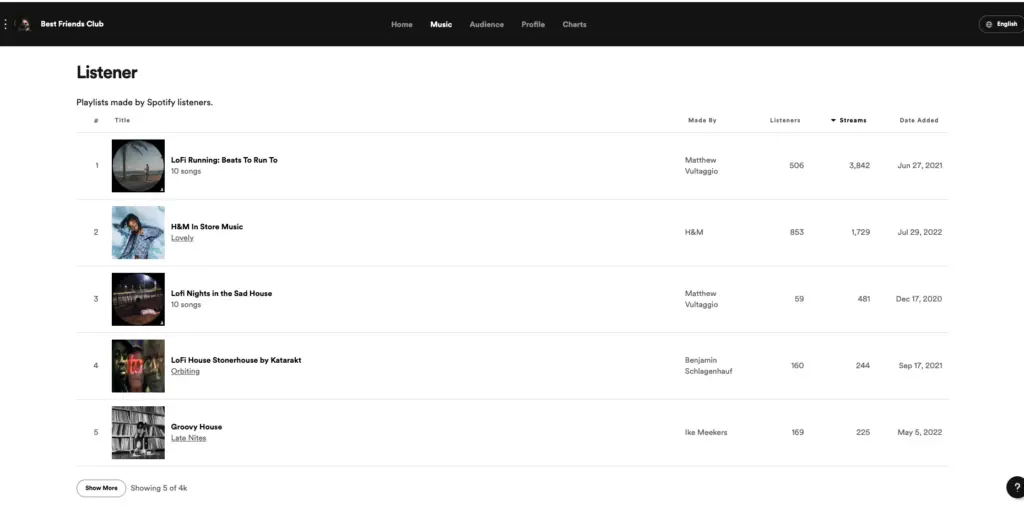 Spotify artists can look at playlist data for their overall audience as well as for individual songs.
Out of all the data available to Spotify artists, the playlist data is what can give an artist the closest potential look at who directly is listening to their music.
Spotify For Artist's Listening Now Feature Explained
The "people listening now" feature in the Spotify For Artists dashboard shows the total amount of people currently listening to any of that artist's tracks worldwide. This stat is only a number (no names or usernames are visible) and is updated in real-time.
Here is what the "people listening now" area of my Spotify For Artists dashboard looks like:
Spotify For Artists' people listening now feature is super cool but can raise some questions regarding how reliable it is, how you can use it to grow your Spotify streams, and how safe things are in terms of privacy.
If you want to know all you can about this cool feature (and how you can leverage it to grow your streams), then simply read on, my friend! 🙂
How To Use Spotify For Artist's Listening Now Feature
Before reading any further, make sure you are able to release music and have access to the dashboard (I recommend and use DistroKid and you can save 7% by clicking here).
I've got 3 hot tips on how you can best use the listening now feature coming right up, but first: a quick history lesson.
Back in September 2019, Spotify released an updated version of it's Spotify for Artists app and web browser that added more in-depth stats about an artist's music and listeners.
In addition to the "people listening now" feature, this update added:
Real-time stats for the first week of a new song's release

More info about specific Spotify milestones (ie: hitting a certain amount of subscribers or a big-time playlist add)

Easy access to Spotify's educational info about releasing music successfully on their platform

An easier way to switch between profiles if you happen to manage multiple artists on Spotify
To me, the most interesting update was definitely the "listening now" feature.
Sure, it gives you a hit of dopamine when you see that number, but also it can be very useful to help you judge if your marketing efforts are working or not.
Which brings us neatly on to tip #1:
Tip 1: Use Spotify's listening now to market your music better
By being able to see if anyone is listening to your music right at this moment, you can monitor changes to this Spotify live stats counter to judge or assess the effectiveness of your marketing efforts.
Did you just post the perfect Instagram video to promote your song? Use the Listening Now feature to see if there is a jump in real-time listeners.

Just shared your song on Reddit? Check to see if anyone actually clicked through and listened by checking the real-time listener stat.
It's not a perfect method, but considering how little Spotify gives you in terms of data, this feature can definitely be helpful to make sure you are on the right track.
With this bit of data, you can get a (somewhat) better idea of what marketing efforts you should double down on and which ones you should waste less time on.
Tip 2: Use Spotify's listening now to monitor playlist performance
Another great way you can use the people listening now feature in Spotify is to monitor playlist performance or see if you have been added to a playlist in the first place.
Where I personally find this super effective is by looking at this stat on Monday and Friday.
Why should you look at how many people are listening to you at those specific times?
It's simple. That is when Spotify pushes out its Spotify algorithm playlists like Release Radar and Discover Weekly.
If you see a spike of listeners on those days, you are in very good shape as you can have a pretty good idea that you are being pushed out by Spotify's algorithm.
Monday: a large spike in listeners most likely means you have been added to Spotify's Discover Weekly playlist

Friday: a large spike most likely means you've been added to Spotify's Release Radar playlist
Additionally, if you know you've just secured a juicy third-party playlist add, you can watch the people listening now feature to confirm if you have actually been added and/or if the playlist add is immediately effective.
Tip 3: Watch your mental health (aka don't get obsessed)
The last tip here to round things off is to simply don't get too obsessed with the data that Spotify provides you with the listening now feature (and in general really).
It can be very easy to get caught up in the numbers, and feel really great when they are up but really awful when they are down.
Don't let your happiness be reliant on what your numbers are at any given time.
Make sure you balance your mental health and the growth of your music career, my friend!
Besides, are the numbers shown in the listening now even reliable?
Wow! Let's hop aboard that beautiful segway on over to the next section, mi amigo! 🙂
Is Spotify For Artists Listening Now Feature Reliable?
I previously wrote a bit about this in my article, Spotify Live Stats Not Working? Do This, but essentially my findings are that the real-time listeners in the listening now feature is pretty reliable.
What I found out was that there can be the odd time where it may underreport your real-time listeners or even flat out show 0. Also – there was at least one time where my real-time listeners were stuck at 600 for about 30 minutes.
It was (unfortunately) a glitch. 🙁
In addition to my own personal findings from releasing music every single month, I also did some research into how other people have been experiencing the listening now feature.
I found that several people over on the Spotify forums tested this feature out amongst themselves and their friends and ultimately found the real-time listeners to be reliable as well.
The fine folks over on the forums did notice that there can be a few seconds of lag or latency, but that can kind of be expected with a real-time stat counter like this.
What's The Difference Between Listening Now and Real-Time Stats?
The difference between Spotify's "people listening now" stats and the "real-time live stream" counts really just comes down to this:
"People listening now" shows the number of listeners listening to any of your music right now.

"Real-time live stream" stats show the number of total streams for a single song that is newly released.
When comparing streams and listeners, make sure you first know the difference between streams and listeners on Spotify. Once you are clear on the difference there, we can dive a bit deeper into this.
For starters, live stream stats actually only show up for new releases.
More specifically, Spotify live stream stats only show up for the first 7 days of a new song release. This number shows the total # of streams for your song and it actually updates for you every 2 seconds.
You can find the real-time live stats for your newly released song in two places:
On the web (desktop or mobile browser), by clicking on one of your songs to open up its song stats.

In the Spotify For Artists app, right in the "Home" tab.
Both the people listening now and the real-time live stream stats, show you what is going on in real-time. But, one shows you the current amount listeners for any song while the other shows current total streams for just one song.
Is Spotify's Listening Now Feature Safe & Respectful of Privacy?
Here are the key things to know when it comes to listening now and privacy:
Artists can only see the number of people listening
Artists can't see who is listening, where they are listening from, or what they are listening to
That means that the listener's privacy is pretty well protected, at least from the artists. How Spotify actually uses listener data is a completely different story.
If you're interested in finding out more about how Spotify handles privacy, you should have a look at their Privacy Center.
Related Questions
Can artists see if you listen to their music on Spotify?
Great question! Artists can see general information on their listeners as a whole but can not see any individual listener's information. For example, an artist can see how many listeners they have in a country but not who those listeners specifically are.
How reliable are Spotify's real-time live stats?
Another great question! The real-time live stats tend to be more reliable earlier in the song release and less reliable whenever there is a large spike in streams. However, your experience with real-time stats may vary.
Why are Spotify's real-time live stats unreliable?
Wow! Another great question! The larger amount of data there is for Spotify to process, the less quickly Spotify will be able to report that data, and the more Spotify needs to check to see if these streams are real or fake. This is why Spotify's real-time live stats can be unreliable.
…Not On Spotify Yet?
Although my top suggestion for a music distributor is definitely DistroKid, I've gone ahead and compared DK to other popular services in case you are in the market for a new digital distributor or are simply just curious.
Popular alternatives to a music distribution service like DistroKid include TuneCore, CdBaby, Ditto, and Amuse.
If you would like to see how DistroKid compares to these services, more closely check out this articles:
Or, if you would like a more detailed look into what DistroKid has to offer, you can check out my big fat DistroKid review. 🙂
P.S. If you also want to learn about music publishing and make sure that you are not leaving any money on the table with your music distribution setup, I'd recommend checking out these 2 articles:
Some of my favorite music marketing tools
Thank you for reading this article, my friend, and I hope you found it helpful as you build your own successful career in music. 🙂
Here is a list of my favorite and most recommended tools and resources that I've personally used to get my music streamed over 4,000,000 times on Spotify as an artist.
Any of the paid services or tools listed here are most likely affiliate links, so if you do decide to use any of them, I'll earn a small commission.
But in all honesty, these are the exact tools that I personally use, love, and recommend to anyone – including my own friends and family.
Music Distribution
To get your music on Spotify on all the other streaming services, I use DistroKid because you get unlimited song uploads for a low annual price.
If you want to learn more about DistroKid and music distribution, check out the in-depth DistroKid review that I've put together.
Or, if you want to get started with DistroKid right now, you can save on your first year with the DistroKid discount.
Facebook Ads For Spotify Success
Although Facebook Ads can be a real pain to get working properly, there is no denying that they are incredible for growing Spotify streams and getting your music in front of real fans.
This is why I've put together a completely free course that you can check out called Facebook Ads For Musicians' Spotify Streams. 🙂
Music Publishing Royalties Collection
For collecting all of the publishing, mechanical, and live performance royalties owed to me whenever my music gets streamed or played, my go-to is Songtrust.
Songtrust is a publishing administration company which means that in addition to collecting all of those royalties for me, they do it on a global level.
To learn if Songtrust is right for you, I'd recommend checking out this article on Songtrust vs BMI.
And if you want to get started with Songtrust right now, I'd recommend learning about the Songtrust discount code so that you can get the best price. 🙂
Website & Smart Links
I'm personally not a big fan of the link-in-bio and smart links for music pages like ToneDen and Hyppeddit.
Instead, I prefer having a full-blown WordPress website that allows me to have a full website in addition to unlimited music links.
For getting started with this, I really like Bluehost because it is the cheapest and a theme called Thrive Themes because it is the most flexible and easiest to use.
I've actually created a free Smart Links Course that you can take to learn how to get set up and start getting more streams with custom smart links (I've even included the templates I am using!).
Want more tools and resources for your music career?
If you'd like to see even more of my favorite marketing tools and resources for musicians and music artists, I've created an even larger list on this page: Best Marketing Tools & Resources For Musicians (& Music Artists).
P.S. There are even some free tools and resources included on that page as well! 🙂