Claiming an artist profile on Spotify is quick and easy when you know the right steps to follow. I've researched this topic, did it myself, and then wrote about the best way to do it here.
To claim a Spotify artist profile, you must claim your profile via your music distributor or directly from the Spotify For Artists' claim page. The first thing you must do is make sure your music is live on Spotify, which can be done via your distributor.
This process is quick and straightforward – but it may be a bit different for each individual.
In this article, I'll break down the 2 methods to claiming your official artist profile, starting with the method that is the fastest and easiest.
Claim You Artist Profile On Spotify
To claim your official Spotify artist profile, there are just 3 steps to follow (and you may have already completed steps 1 and 2!).
The 3 steps are:
Submit your music to Spotify via a music distributor

Wait for your music to be "ingested" by Spotify

Claim your Spotify Artist Profile using one of the methods listed here
If your music is already live on Spotify and you just need to get that beautiful blue verified checkmark and access to Spotify For Artists, the hardest part is already behind you!
However, if you are brand new to this process, then don't worry, it is super easy to upload to Spotify as an artist.
With that out of the way, there are 2 methods to claiming your Spotify artist profile. These are:
Through your music distributor

Manually claiming your profile with Spotify
The easiest, fastest, and best method is to do this through your music distributor. So, we will start with that one first.
Method 1 – Music distributor
Sure, you can claim your Spotify artist profile directly through Spotify, but, believe it or not, it's not the best way.
The easiest way is to do so through your music distributor!
Spotify actually has a list of "preferred distributors" and quite a few of these provide "instant access" to claiming your Spotify Artist Profile.
What distributors can give instant access?
Here is a list of the top names listed in Spotify's list of preferred distributors:
You can trust and use any of these bad boys, as they have been around for a while and have solid track records.
How to do it
Once you've submitted your tunes using one of these distributors, all you need to do is click a few buttons in their backend and… Voila! Instant access.
It really is that simple with the music distributor method because they have a solid partnership with Spotify and already have access to all the artist information needed from you to claim the page.
This means that not much is needed from you other than that to click a few buttons.
I told you this method was the easiest and fastest. 🙂
With that said, for a more detailed look into how to do this with DistroKid, you can check out my article: Does DistroKid Make A Spotify Account For You?
Method 2 – Manually on Spotify
The 2nd option to claim your Spotify artist profile directly from the source: Spotify.
Although it may seem the best way is directly from Spotify, I actually wouldn't recommend this method because it takes longer and requires more work on your part.
But, with that said, let's jump into how you can claim your Spotify artist profile manually!
How to do it
To claim a Spotify artist profile manually on Spotify, simply begin the process by visiting artists.spotify.com/claim.
However, do remember that like the 1st method, you need to make sure that your music is live on Spotify first or you have recently submitted your 1st release.
After visiting the link above, you will see a page like this:
2. The next step would be to click "Artist or manager".
3. You will now need to log into your Spotify account or create a new one (don't worry it is free):
4. You need to search up the artist so that you can claim the artist profile (this is why you MUST have music on Spotify first):
If the search engine does not show you the correct artist, you can click on "Can't find the artist" to manually enter a Spotify URI:
Note: If your music is submitted to Spotify but not yet live, you may be able to get your Spotify URI in advance from your music distributor.
5. Once your artist is selected, you will see the artist's name below with a checkmark next to it. You can now select your role (in most cases 'Artist' will do) and then click NEXT.
6. You now need to verify that you are the artist. You can do this by connecting your Twitter and Instagram, as well as adding in extra links. Then click SUBMIT.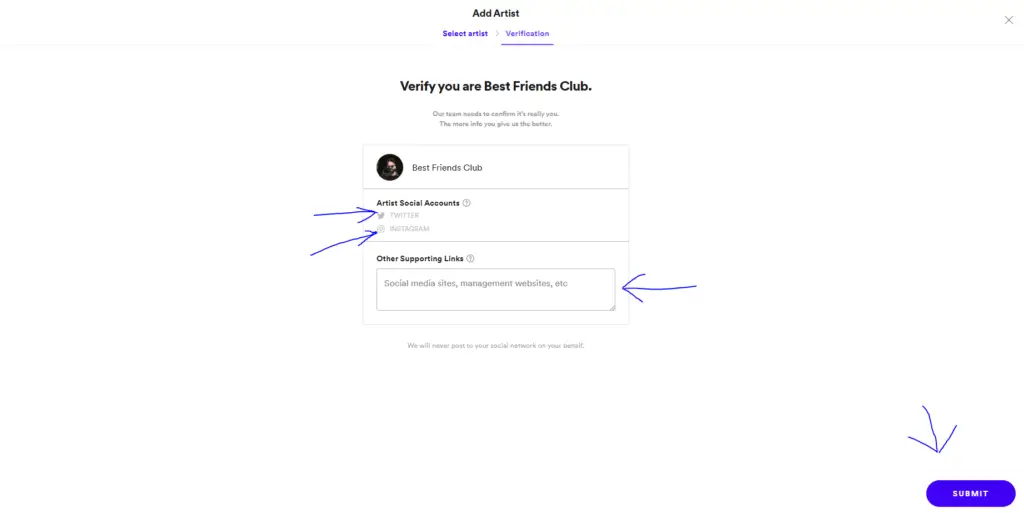 I would recommend providing as much information as possible. Twitter, Instagram, Facebook, websites, etc. Whatever you got, add it!
As you can see, there are much more steps to take when doing the manual method (which is why I don't recommend this).
What To Do If You Are Not Yet On Spotify
If you get stuck on Step 4 because your artist name is not showing up, you can manually enter what is called your Spotify URI.
You can find this by searching up your Artist Name in the Spotify app and grabbing it there.
If you are submitting music for the first time, you may be able to get your Spotify URI in advance from your music distributor.
However, if you have not submitted your music to Spotify at all and need to learn how, then you need to find yourself a music distributor first.
How To Upload To Spotify
Thanks to new music distribution companies like DistroKid, it is now incredibly easy (and cheap) to get your music live on Spotify and other streaming services.
It's quick and easy – just sign up, upload your tracks from anywhere in the world, and they'll automatically distribute them to all major platforms.
I personally use and recommend DistroKid. You can learn all about them in my big fat DistroKid review, but the main reason I think they are a gamechanger is that they allow you to have unlimited song uploads for a small annual fee instead of having to pay per release.
Once you've familiarized yourself with the advantages and disadvantages of DistroKid, it's time to do some research on other popular music distributors. Keep reading for a list of 6 different websites that are comparable to DistroKid.
Why You Should Claim A Spotify Artist Profile
Sure, making your project look all that more official with the blue verified checkmark is one reason, but it's probably the smallest reason you should take the time to claim your profile
With a Spotify artist profile, you have the ability to:
Update your profile picture, biography, and social links

Choose an "Artist Pick" (a song, album, or playlist that shows up at the top)

Get access to enhanced data and analytics in the Spotify For Artists dashboard

Choose a "Fundraising Pick" (a charity or straight-to-artist donation option)

The ability to pitch your music to Spotify editors to get on lucrative Spotify editorial playlists
Spotify is also adding new features all of the time, and most of them are in some kind of effort to do better on their platform.
How To Get The Most Out Of Your Spotify Artist Profile
Getting to know the ins and outs of the Spotify For Artists dashboard and all the things you can do with your artist profile is really on the beginning.
For example, a key feature that I mentioned in the list above is that you get the ability to pitch your music to Spotify editors.
When you do these pitches 1 week before your release, you ALSO get your song set to be in the algorithmic Release Radar playlist of everyone that follows your artist profile.
You may know that editorial and algorithmic playlists are the holy grail of Spotify success, but did you know you can actively work to get on this?
So how do you get on these bad boys?
The honest secret is this…
Release music often.
This is exactly why I really think it is important to choose a music distributor that provides unlimited song uploads for a small fee, like DistroKid.
Otherwise, releasing lots of music can get real expensive, real quick.
So… how do I know this?
Simple!
I've done this myself by releasing my own music on a monthly basis.
At first, it started slowly: I got on some Algorithmic playlists.

Over time this got me more and more streams until I caught the attention of the Spotify editors.
I've now gotten my music on over 10 official Spotify editorial playlists and have racked up over 2 million streams.
If you want to know how I did this in detail, I put together a free course called the 6 Secrets To Spotify Success.
In this free course, I cover:
How to get the most out of your latest release, overnight

The exact step-by-step process of how to build a music marketing strategy required to make you sweet streams

How to grow your Spotify streams, monthly listeners, and fans even if you're totally new
If that sounds neat to you, then check out the 6 Secrets To Spotify Success, for more.
Otherwise, good luck on your next release, my friend! 🙂
Some of my favorite music marketing tools
Thank you for reading this article, my friend, and I hope you found it helpful as you build your own successful career in music. 🙂
Here is a list of my favorite and most recommended tools and resources that I've personally used to get my music streamed over 4,000,000 times on Spotify as an artist.
Any of the paid services or tools listed here are most likely affiliate links, so if you do decide to use any of them, I'll earn a small commission.
But in all honesty, these are the exact tools that I personally use, love, and recommend to anyone – including my own friends and family.
Music Distribution
To get your music on Spotify on all the other streaming services, I use DistroKid because you get unlimited song uploads for a low annual price.
If you want to learn more about DistroKid and music distribution, check out the in-depth DistroKid review that I've put together.
Or, if you want to get started with DistroKid right now, you can save on your first year with the DistroKid discount.
Facebook Ads For Spotify Success
Although Facebook Ads can be a real pain to get working properly, there is no denying that they are incredible for growing Spotify streams and getting your music in front of real fans.
This is why I've put together a completely free course that you can check out called Facebook Ads For Musicians' Spotify Streams. 🙂
Music Publishing Royalties Collection
For collecting all of the publishing, mechanical, and live performance royalties owed to me whenever my music gets streamed or played, my go-to is Songtrust.
Songtrust is a publishing administration company which means that in addition to collecting all of those royalties for me, they do it on a global level.
To learn if Songtrust is right for you, I'd recommend checking out this article on Songtrust vs BMI.
And if you want to get started with Songtrust right now, I'd recommend learning about the Songtrust discount code so that you can get the best price. 🙂
Website & Smart Links
I'm personally not a big fan of the link-in-bio and smart links for music pages like ToneDen and Hyppeddit.
Instead, I prefer having a full-blown WordPress website that allows me to have a full website in addition to unlimited music links.
For getting started with this, I really like Bluehost because it is the cheapest and a theme called Thrive Themes because it is the most flexible and easiest to use.
I've actually created a free Smart Links Course that you can take to learn how to get set up and start getting more streams with custom smart links (I've even included the templates I am using!).
Want more tools and resources for your music career?
If you'd like to see even more of my favorite marketing tools and resources for musicians and music artists, I've created an even larger list on this page: Best Marketing Tools & Resources For Musicians (& Music Artists).
P.S. There are even some free tools and resources included on that page as well! 🙂