Learning how to create an official Spotify artist account is super easy once you know the exact steps to follow. In this article, I'll show you how to get set up with an Spotify artist profile.
To create a Spotify artist account, you need to already have music on Spotify and then claim your artist profile via your music distributor or directly from the Spotify For Artists' claim page.
The very first step in creating your very own Spotify artist account is to actually get your music up on Spotify (thankfully this is way easier to do today if you have not yet completed this step).
Next, there are 2 methods to claiming your Spotify artist profile. These are:
Through your music distributor

Manually claiming your profile with Spotify
Continue reading to learn how to claim your Artist profile with both methods and which method is fastest and easiest.
Creating Your Spotify Artist Account
There are only 3 steps you need to follow to create an official Spotify artist account of your own.
Submit your music to Spotify via a music distributor

Wait for your music to be "ingested" by Spotify

Claim your Spotify Artist Profile using one of the methods listed here
If you already have music live on Spotify, then you can skip right on over to Step 3.
If you are brand new to this process, then don't worry, it is super easy to upload to Spotify as an artist.
Step 1 – How To Get Set Up With A Music Distributor
Thanks to new music distribution companies like DistroKid, it is now incredibly easy (and cheap) to get your music live on Spotify and other streaming services.
To upload to Spotify as an artist, you need to sign up with one of Spotify's preferred music distributors and submit your music, artwork, and artist information through that distributor.
I personally use and recommend DistroKid, and you can learn all about them in my big fat DistroKid review.
I think DK is a gamechanger because they allow you to have unlimited song uploads for a small annual fee instead of having to pay per release.
With that said, it's always a good idea to do some research, so here are some other popular music distributors that I've compared to DistroKid for you:
Step 2 – Submit Your Music
Now that you've chosen the right music distributor for you, the next step is to use them to get your music sent off to Spotify.
Regardless of the distributor you choose, there is usually a simple digital form where you:
Fill out your song's details

Upload your music

Upload your artwork

Select which streaming services and stores you would like your music to appear.
In most cases, it will take Spotify 3 to 4 days to "ingest" your music and have it appear in the Spotify backend. To learn more about this process, check out my article on DistroKid wait times.
NOTE: You need to confirm that your music is live on Spotify before continuing to the next step!
Step 3 – Claim Your Profile
Once you have confirmed that your music is indeed live on Spotify, all you need to do is "claim" your Spotify artist profile.
As I mentioned earlier, there are 2 ways to do this:
Through your music distributor

Manually claiming your profile with Spotify
The fastest and easiest way to do this is by using your music distributor (this is why it is important to select a distributor that is on Spotify's preferred list).
However, I'll go through each method for you. 🙂
Method 1 – Music distributor
By far the easiest way to claim your Spotify artist profile is with your music distributor, so I would easily recommend this method.
What distributors can give instant access?
Spotify put together a list of preferred music distributors that can give you instant access. The top names on this list are:
How to do it
Once you have submitted your music to Spotify using one of them, it is quite easy to get instant access in your music distributors backend.
In most cases, all you need to do is click a few buttons.
For a detailed look into how to do this with DistroKid, check out my article: Does DistroKid Make A Spotify Account For You?
Method 2 – Manually on Spotify
The 2nd option to create a Spotify artist profile is to claim your profile manually on Spotify.
However, this method isn't recommended because it takes longer and requires more work on your part.
How to do it
To claim a Spotify artist profile on Spotify, simply begin the process by visiting artists.spotify.com/claim. Just make sure that you have music on Spotify first or have recently submitted your first release.
However, do remember that like the 1st method, you need to make sure that your music is live on Spotify first or you have recently submitted your 1st release.
After visiting the link above, you will see a page like this:
2. The next step would be to click "Artist or manager".
3. You will now need to log into your Spotify account or create a new one (don't worry it is free):
4. You need to search up the artist so that you can claim the artist profile (this is why you MUST have music on Spotify first):
If the search engine does not show you the correct artist, you can click on "Can't find the artist" to manually enter a Spotify URI:
Note: If your music is submitted to Spotify but not yet live, you may be able to get your Spotify URI in advance from your music distributor.
5. Once your artist is selected, you will see the artist's name below with a checkmark next to it. You can now select your role (in most cases 'Artist' will do) and then click NEXT.
6. You now need to verify that you are the artist. You can do this by connecting your Twitter and Instagram, as well as adding in extra links. Then click SUBMIT.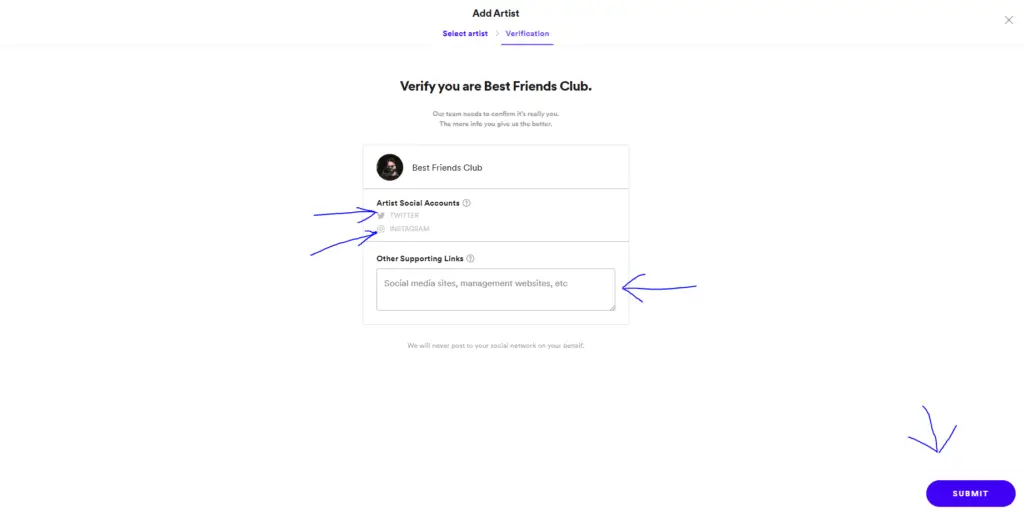 I would recommend providing as much information as possible. Twitter, Instagram, Facebook, websites, etc. Whatever you got, add it!
As you can see, there are much more steps to take when doing the manual method (which is why I don't recommend this).
What Are The Benefits Of A Spotify Artist Profile?
There are quite a few great reasons that you should claim your Spotify artist profile, and making your project look more official is only a small one!
With a Spotify artist account, you have the ability to:
Update your profile picture, biography, and social links

Choose an "Artist Pick" (a song, album, or playlist that shows up at the top)

Get access to enhanced data and analytics in the Spotify For Artists dashboard

Choose a "Fundraising Pick" (a charity or straight-to-artist donation option)

The ability to pitch your music to Spotify editors to get on lucrative Spotify editorial playlists
In addition to this, you will also get a blue verified checkmark beside your artist name and access to new features like Spotify Canvas.
How To Get The Most Out Of Your Spotify Artist Account
Spotify is awesome because they have so many different ways for artists to grow their streams and start seeing success in the world of streaming.
The Spotify artist account is great because it allows you to access some new features and really dig into your data.
A key feature that you get access to is the ability to pitch your music to Spotify editors.
You may already know that editorial playlists are the holy grail of playlist placement but did you know Spotify offers other types of playlists and that there is a way you can start to get the editor's attention?
Spotify also has a growing number of algorithmic playlists and getting on any of these algorithmic or editorial playlists will significantly increase the number of streams you see.
So how do you get on these bad boys?
The honest secret is this…
Release music often.
This is exactly why I really think it is important to choose a music distributor that provides unlimited song uploads for a small fee, like DistroKid.
Otherwise, releasing lots of music can get real expensive, real quick.
How do I know this?
Simple!
I've done this myself by releasing my own music on a monthly basis.
At first, I started getting on some Algorithmic playlists and slowly that caught the attention of the Spotify editors.
I've now gotten my music on over 10 official Spotify editorial playlists and have racked up over 2 million streams.
If you want to know how I did this in detail, I put together a free course called the 6 Secrets To Spotify Success.
In this free course, I cover:
How to get the most out of your latest release, overnight

The exact step-by-step process of how to build a music marketing strategy required to make you sweet streams

How to grow your Spotify streams, monthly listeners, and fans even if you're totally new
If that sounds neat to you, then check out the 6 Secrets To Spotify Success, for more.
Otherwise, good luck on your next release, my friend! 🙂
Things To Know About Spotify Artist Accounts
Here are some extra things to know about Spotify accounts that you may find useful:
You do not need a free or premium Spotify listener account to create a Spotify Artist Account

The Spotify Artist Account is separate from the Spotify listener accounts

The blue verified checkmark will show up on your artist profile only (nothing changes on your listener account)

You can not create playlists with your Spotify artist account (you need to make them with a listener account and then add it to your profile via the Spotify For Artists dashboard)

Not every Artist account is the same (some distributors may get access to new features early for example)

The only way to pitch to Spotify editors is via the Spotify For Artist dashboard

You can reach out to Spotify support via the Spotify For Artists dashboard and ask for your listener account to be upgraded so that you can add links in the description of your playlists
How To Collect Spotify Royalties
Now that you've signed up with a music distributor, got your music uploaded to Spotify, and even claimed your official Spotify artist profile, you must be wondering…
How the heck do I get paid?
Believe it or not, artists don't actually receive a paycheck right from Spotify themselves! Instead, Spotify pays the music distributor, who in turn, pays you.
Artists collect Spotify royalties and payments from a music distributor, who first collects the royalties directly from Spotify on your behalf.
Spotify works with music distributors because these companies make sure that any music that gets submitted is done so properly in terms of file types, artwork requirements, etc.
Here's how it works:
Artists get paid royalties every time a user streams their music on Spotify (and when you find out how much Spotify pays per stream, you'll know it ain't much).
Depending on where in the world the user streamed your music and what account they used (free or premium), will affect that royalty rate.
Then, Spotify sends out royalty statements to your music distributor on a monthly basis with a 2 – 3 month delay.
Why does it take so long?
I believe it takes Spotify 2 – 3 months to pay out because they want to confirm that all of the streams you received were legitimate and did not come from any fake playlists or fake streamers.
Spotify has a serious problem with bad actors selling playlist placements filled with bots to artists and Spotify does not want to have to pay out for any fraudulent streams.
You can learn more about this process in my article on DistroKid wait times.